Guardians Honoured
---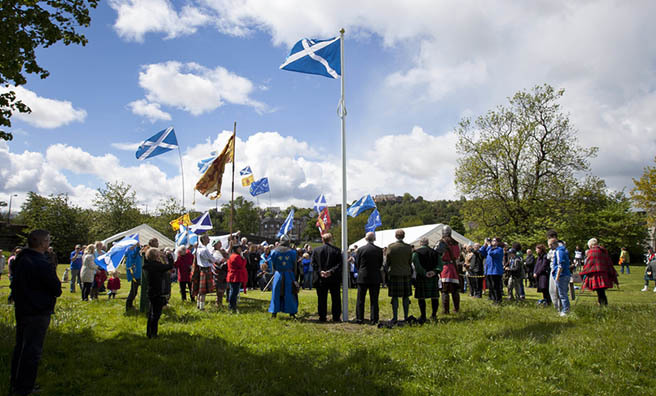 The Saltire is flying over Stirling Bridge for the first time in over 700 years
In a formal unveiling ceremony on Friday, May 29, the Saltire was raised over a new memorial site commemorating the historic battle.
Both commanders on the Scots side of the Battle of Stirling Bridge, William Wallace and Andrew de Moray, have been honoured on memorial lecterns.
William Wallace has a reputation world wide, but the part played by his co-commander, Andrew de Moray is relatively unknown.
"… if Wallace was the heart of this campaign, then Moray was his eagle eye and brain"
While Wallace was more prominent in Central and Western Scotland during the Scottish Wars of Independence, Moray was responsible for the rising in the North, and many feats attributed to Wallace (such as the attack of English ships in Aberdeen harbour) are now thought to have been carried out by Moray.
This is the first time both men have been publicly honoured equally for the parts they played in the Wars of Independence and in particular the Battle of Stirling Bridge, after which both were named Guardians of Scotland.
Three lecterns made of traditional Scottish whinstone were unveiled at the site of the battle by the Guardians of Scotland Trust. They tell the story and legacy of Wallace and Moray, and one carries an excerpt of poet Paraig MacNeil's epic De Moray in Old Scots (English translations shown here).
"…for Moray paired with Wallace were the bright true bearers of Scots liberty and light"
Also at the unveiling was the direct descendant of Andrew de Moray, John Stuart, the Earl of Moray, who was proud to have his ancestor's memory immortalised on the site.
"I am delighted that Andrew de Moray is finally, after 700 years, to have the recognition he deserves. The Guardians of Scotland have put a huge amount of time and effort into the lecterns, which are a very fitting tribute to one of Scotland's greatest patriots."
Stewart Maxwell, MSP, convener of the Scottish Parliament's Education and Culture committee opened the ceremony and raised the Saltire with the Earl of Moray.
Wallace is recognised world wide – thanks largely to the Hollywood blockbuster Braveheart which misses out Moray entirely, but still makes an entry on our Most Scottish Films of all time!