Experience Highlands: Scotland's Wild Heart
---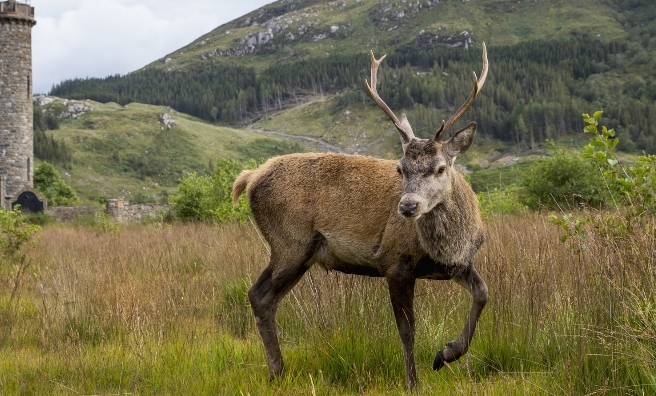 Red Deer by the Glenfinnan Monument. VisitScotland / Kenny Lam
We love BBC One's Highlands: Scotland's Wild Heart. If you're equally hooked on the series, VisitScotland has come up with a handy list of places where you can experience the real thing.
Ospreys in Abernethy Forest
Viewers of Highlands: Scotland's Wild Heart who fell in love with the nesting ospreys can head to the family-friendly Osprey Centre at Loch Garten in Abernethy Forest to see more of these wonderful birds and learn about their lives close up. The centre provides unmatched views of these birds, while paths in this part of the reserve also offer the opportunity to spot red squirrels, dragonflies and crested tits.
The Osprey Centre is open daily, 10 am–6 pm from April to end of August. Admission costs: adults £5, concession £3, under 16s £2, family (up to two adults and four children) £10.
Dippers in the River Braan
Dippers can be viewed throughout the Highlands but to see the beautiful filming location selected by the BBC, make your way to the River Braan near Dunkeld.
Visitors heading to The Hermitage can enjoy woodland scenery, where it is said that the 3rd Duke of Atholl used a canon to scatter tree seeds to the more inaccessible parts of the landscape.
The Hermitage is open all year round and access is free of charge.
 Red deer on Jura
Highlands: Scotland's Wild Heart took viewers to Jura, where it's not only possible to see otters, seals and golden eagles but also where red deer outnumber people 30 to 1. Large groups can often be seen together and in the autumn rutting season, visitors may hear the sound of the stag's distinctive mating call echoing across the beautiful island landscape.
Visitors can make their own way around by foot or bike, or alternatively, book a tour with Jura Island Tours, which cost from as little as £15 per person.
 Otters on Mull
Mull is home to the Eurasian Otter, which can be spotted in a variety of locations across the stunning island. Visitors can book one of the many established wildlife tours operating in the area to catch a glimpse of these elusive creatures and can also book a boat trip to look for other local wildlife such as whales, dolphins and basking sharks.
Tours are available all year round from a variety of operators, more information can be found here.
Cairngorm Reindeer
As fans of Highlands: Scotland's Wild Heart will know, there's no need to go all the way to to Lapland to catch sight of a reindeer as the Cairngorms is home to a herd of free-ranging reindeer.
During the summer, half-day reindeer treks are available or, for something a little less energetic, families can meet the small group of reindeer kept in a paddock at The Cairngorm Reindeer Centre between Easter and New Year.
The Cairngorm Reindeer Centre is open from February half term until early January. Admission is from £2.50 per ticket.
 Argaty Red Kites feeding station
A mere hour in the car from Edinburgh or Glasgow will take you to the feeding station of the Argaty red kites,which remains open to the public all year round.
Live CCTV links to red kite nests in summer and to the feeding site in winter – these can be viewed in the visitor centre, where visitors can learn more about the birds. Visitors to Argaty might also catch a glimpse of red squirrels and roe deer, as well as enjoy the beautiful wild flower meadows in summer.
The red kite feeding station is open all year round. Admission is from £6 for adults and £3 for children (ranger-led visit to the hide).
 Bottlenose dolphins in Spey Bay
Lovers of the intelligent and friendly bottlenose dolphins featured in Highlands: Scotland's Wild Heart can  visit the Scottish Dolphin Centre in Spey Bay. Located on the edge of a nature reserve, this is one of the locations of the final episode in Highlands: Scotland's Wild Heart.
Enjoy a Wildlife Wander to spot local wildlife or watch the dolphin cam to see the latest dolphin activity from the comfort of the visitor centre's interactive exhibition.
The Scottish Dolphin Centre is open 7 days a week and Wildlife Wanders run from April – October. Admission to the centre is free of charge.
For more information about visiting Scotland, go to www.visitscotland.com
---
The Book
Accompanying the TV series Highlands: Scotland's Wild Heart is a nature book of the same name with stunning photographs by Scots Magazine contributor, Laurie Campbell (as seen above) and words by renowned nature writer, Stephen Moss.
Find out more about this fabulous book from Bloomsbury Publishing.