Up Helly Aa 2015
---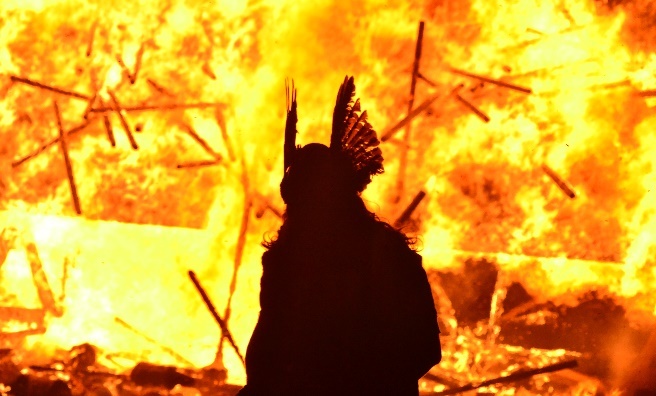 Guizer Jarl silhoutted against his burning galley
On a blustery evening on the last Tuesday in January, Guizer Jarl Neil Robertson, bedecked in his splendid Viking suit, was pulled aloft his Viking galley through the streets of Lerwick as Shetland celebrated Up Helly Aa 2015.
Adorning his Viking name Olaf Harraldsson, the Jarl and his squad of 70 Vikings begin their day at 7.30am. Following a packed day including a public morning parade in the drizzle and a series of community visits, the Guizer Jarl is granted the freedom of the town for 24 hours.
The spectacular torch-lit procession
The highlight of Up Helly Aa is the spectacular torch-lit procession.
The street lamps are extinguished, plunging the town into darkness, as the Jarl Squad marches along the ranks of guizers – squads of men dressed in various outfits, from wizards to chickens. The torches are then lit and the march through the street begins, with the galley boat in tow.
From the crowd, you can smell the kerosene and feel the warmth the torches provide. The smuts emanating from the flames fill the air and sting your eyes. It is mesmeric seeing the lines of fire snaking through the dark streets as crowds follow the procession to the burning site – the park at King Harald Street.
A thousand giant matches form fire arches in the sky
At the burning site, The Guizer heralds the efforts of the torch makers and the galley builders before three cheers go up for the Guizer Jarl. The lit torches are then launched into the air and thrown onto the galley boat as around a thousand giant matches form fire arches in the sky, contributing to the town's biggest bonfire.
The procession's end represents the beginning of Jarl Robertson's evening duties as the squads entertain the town's people throughout the night in public halls – and throughout it all, his smile is the biggest in Shetland.
To find out about more events happening around Scotland, pick up a copy of this month's Scots Magazine – in the shops now or order online by clicking here.