Helping It Happen Awards 2018 – Nominations Open!
---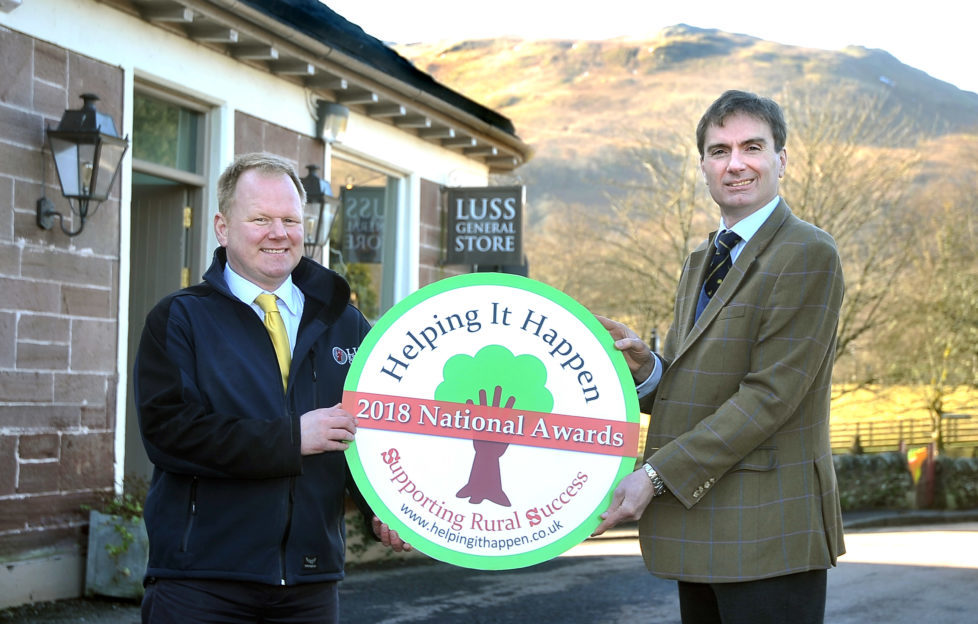 David Johnstone, Chairman of Scottish Land and Estate and Simon Miller, Luss Estates Chief Executive Officer with the award the Scottish Land and Estates Helping It Happen Awards 2018. Picture by Colin Garvie, Lennox Herald contracted freelance, 20/02/18
Do you know an estate or business helping their community to flourish?
The nominations are open for the Helping It Happen Awards 2018, celebrating estates and land-based business who are giving back to their local communities.
Following a successful inaugural year in 2017, Scottish Land & Estates have opened the Helping It Happen Awards 2018 for nominations. The national Awards aim to recognise the role of estates, farms and businesses supporting success in rural areas.
From housing to tourism, education to conservation, the awards organisers want your nominations on businesses that add value to the local economy and environment.
The awards will once again be sponsored by The MacRobert Trust, and entries will being considered in the following nine categories:
Rural Business Award
Tourism Award
Rural Housing Award
Education Award
MacRobert Trust Award for Working with Communities
Conservation Award
The Iver Salvesen Green Business Award
Innovation in Farming Award
Enhancing Our Environment Award
Get Involved!
Has a local estate, farm or rural business near you made a positive contribution to your area?
Helping It Happen Awards organisers are looking for your nomination! Entries can be submitted via the Helping It Happen website before the closing date of July 13, 2018.
An independent judging panel will review all the entries, selecting three finalists in each category. The winners will be announced at the Awards ceremony which will take place at The Balmoral Hotel, Edinburgh on October 3, 2018.
View the gallery below to see a few shots from last year's awards.