Holiday Snaps
---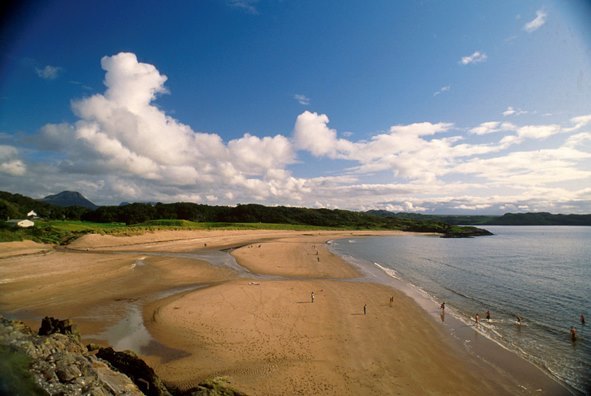 Gairloch Beach
'What We Did On Our Holiday' is one of the must-see films of 2014 and stars David Tennant, Billy Connolly, Rosamund Pike – and some of Scotland's most beautiful scenery.
"It never ceased to amaze me that we would come across amazing view after view," said the film's producer, Dan Winch. "You only have to drive half an hour from the centre of Glasgow or Edinburgh and you're surrounded by the most spectacular landscape."
The film tells the story of about-to-divorce couple Doug (David Tennant) and Abi (Rosamund Pike), who decide to take their three children to the Scottish Highlands for Doug's father Gordie's (Billy Connolly) birthday party. However, when a day at the beach turns to tragedy, the children take matters into their own hands. The film uses several locations throughout the north Highlands and Loch Lomond & The Trossachs National Park.
The film's 'Highland' mansion is actually a self-catering cottage on the border of Loch Lomond & The Trossachs National Park and Stirlingshire.
Red Point Beach features in the film. This stunning sand and shingle beach on the north east coast of Scotland has incredible vistas out to sea and across to the Isle of Skye, Rassay and the Outer Hebrides.
Gairloch also has a starring role. The village is a gateway to amazing beaches, mountain walking and wildlife spotting. Visitors may be lucky enough to spot lots of sea life off the coast or hop on-board a cruise out into the Atlantic Ocean to spot whales, dolphins, porpoises and sharks. Closer to shore, colonies of seals, families of otters and white-tailed eagles and puffins are a common sight.
Corrieshalloch Gorge National Nature Reserve has a part to play – this deep tree-shrouded gorge and beauty spot that cuts through the Highland wilderness.
Attadale Gardens, on the banks of Locharron, provide spectacular views out to the Isle of Skye and are home to an impressive collection of sculptures. First built by the Victorians, the  stunning gardens include extensive water gardens and ancient paths winding through woodland.
For more information on holidaying in Scotland, go to www.visitscotland.com.