Tree Hugging = Happiness + Health
---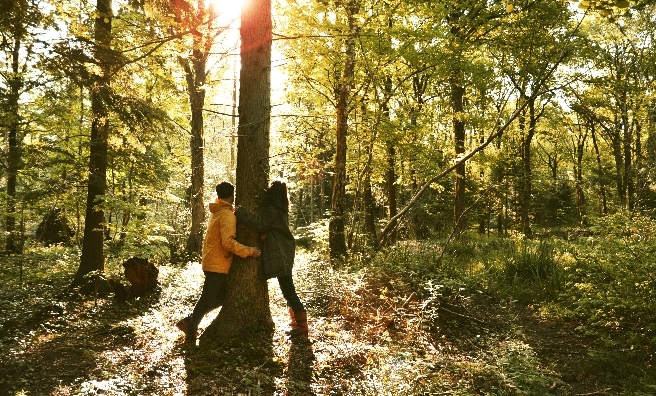 Make the most of the health benefits provided by trees
In response to a report that we're not making enough of the health benefits provided by trees, Edinburgh now has its own tree-hugging guide!
Sawday's Canopy & Stars, the glamping and outdoor holiday experts, have just launched The Nature Report: Benefits of the Great Outdoors.
Revealing the numerous well-being effects of tree hugging and spending time in nature, this report also reveals that, on average, city dwellers spend four times longer looking at a screen than they do outdoors.
Over one third spending more than 40 hours a week in front of a screen, too – more than double the equivalent of their rural counterparts.
"Being around trees re-balances our emotions, brings contentment and calm and can even improve our health, the health of our communities and our lives in general," said report co-author, Dr Miles Richardson.
"So get connected with nature; spend time amongst the trees, look at them, appreciate them, reach out and hug them."
---
Edinburgh's Top 5 Trees
---
To help city dwellers obtain their daily dose of tree time, Canopy & Stars have created a guide to Edinburgh's Top 5 Trees, which are, in no particular order:
The Bibby Tree, Royal Botanic Garden
This Sabal Palm is the oldest tree in the renowned collection, having originally grown at the Leith site and then been moved by horse to the Royal Botanic Garden in 1822. It was recently in the running for Scotland's Tree of the Year, an over-elming achievement.
The Weeping Ash, East Princes Street Gardens
This attractive weeping ash forms the centre point of the bottom lawn in East Princes Street Gardens. From the name you can tell it needs a hug.
Camperdown Elm, The Parish Church of St Cuthbert
Near the main door of the church sits this very large, old specimen, which is possibly the Scottish champion in terms of girth (63cm).
The United Nations 40th Anniversary Tree, Princes Street Gardens
One of 40 trees planted in October 1985 to mark the 40th Anniversary of the United Nations.
Braidburn Valley Cherry Tree

,

Trefoil
In 1935, the Guides Association planted over 400 cherry trees in Braidburn Park in the shape of a trefoil. These trees are now over 70 years old and in decline so they need all the hugs they can get.
Click here for a handy map to find them all!
---
Giving Back To Nature
After six years of helping people find amazing places to stay in the great outdoors, from treehouses to cabins, safari tents to horsetrucks and everything in between, Canopy & Stars wanted to give something back. And so their hug a tree campaign was born.
From July to October, in partnership with Trees for Cities, the company will donate £2 towards planting trees across the UK for every booking. There will also be the opportunity for guests to add £2 to their holiday, 100% of which will be donated to plant trees across the UK.
Click here to read more about Canopy & Stars Hug a Tree campaign