Jamie Scott's Pop-Up Restaurant Hits The Spot!
---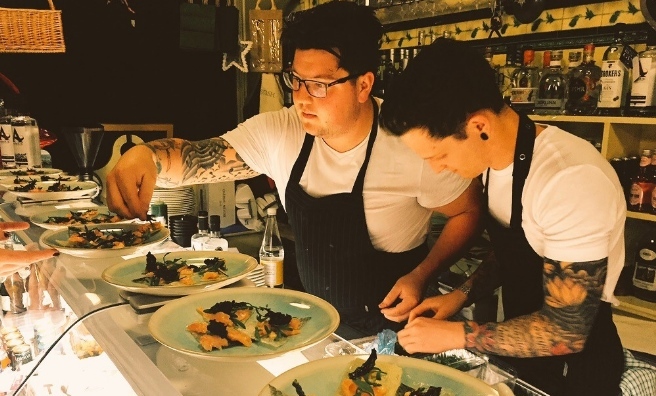 Jamie preps the salmon for one of his many delicious snacks!
It's not every day Jamie Scott, winner of Masterchef: The Professionals 2014 and one of Scotland's top chefs offers to cook your tea, so how could I refuse?
Jamie, who I interviewed for the July issue of The Scots Magazine, recently left the security of the accliamed St Andrews restaurant where he'd been working to open his own restaurant, a project which is currently at the 'hush hush' stage. In the meantime, Jamie's been keeping busy as a freelance chef and hosting his own 'pop-up' restaurant in his home town of Arbroath – and I was invited along to the opening night!
'An utterly sensational tasting menu'
"This is the first experience of a Jamie Scott restaurant," Jamie told the eager diners who were lucky enough to attend the opening evening of his three-nights-only eaterie, where we were treated to an utterly sensational tasting menu.
Our evening started with fizz and nibbles: salt and vinegar peanuts and pork puffs – which I can only describe as Quavers with attitude! Next came three Snacks – salmon served on crispy salmon skinwith seaweed was worthy of Heston Blumenthal, equally ingenious BBQ boneless chicken wings and then Mac n' Cheese – that old favourite rolled into tiny balls and covered in the lighest of batters.
To everyone's delight, our starter (the first five dishes were just to whet our appetite!) was one of the dishes Jamie made at the Masterchef final – and I'm not at all surprised his Arbroath Smokie, Auchmithie Crab and Granny Smith's Doughnuts captured the judges' tastebuds!
'Chill out between courses and enjoy chat and wine'
Next – the bread course, a tradition which should be introduced at all fine dining establishments – and may well become a rule in my house! "This is a chance to chill out between courses and enjoy chat and wine," explained Jamie, who has converted me to the concept that good bread and butter deserves its own share of the limelight.
'The ultimate raspberry'
Beef cooked to perfection three different ways followed and, just as we thought Jamie had reached the pinnacle, out came dessert number 1 – chocolate, puff pastry and raspberries of four different colours which Jamie explained created 'The ultimate raspberry'. And then came dessert number two – local strawberries, local vodka (Arbikie) and local oats. Utterly fabulous!
Jamie's food, Kelly's hosting skills, the atmosphere and the company all combined to make a night to remember. And I'll be first in the queue when Jamie opens his full-time restaurant – although I suspect the other diners will be challenging me for that spot!
For lots more foodie features, pick up a copy of this month's issue of The Scots Magazine. On sale in the shops now – or order online here.