Jo Caulfield's Starter For Ten
---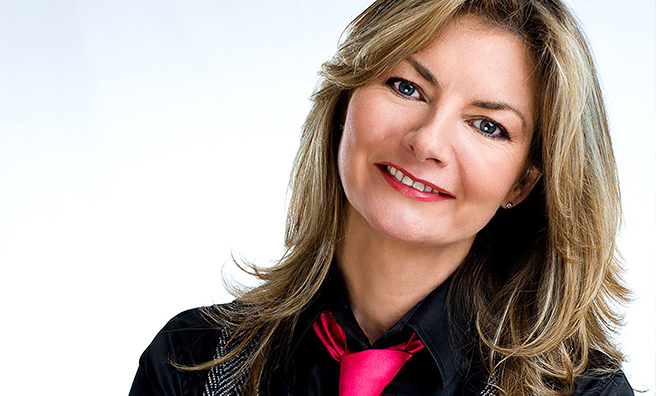 Look out for our big interview with comedian, Jo Caulfield, in our January issue, but in the meantime, here's a quick-fire starter for ten with her to whet the appetite…
Favourite word?
"I have a few. I like numpty, because there's no malice in it. The same with bampot. I also like stramash, mainly because it makes me think of mashed potatoes."
Favourite delicacy?
"I'm partial to a macaroni pie. Carbs within carbs, what's not to love? Aberdeen rowies are terrific too. You can even get them in Harrods and Fortnum & Mason these days."
Least favourite delicacy?
"Potted meat. What's that all about? My mother-in-law got me to try some. It was like eating cat food covered in jelly. No thanks. It's now become a bit of a family joke as they always threaten to get some in  for lunch when I'm coming to visit."
Favourite view?
"I love the panorama from North Bridge in Edinburgh. It changes so much under different light and at different times of the year. I like it best when the sky looks almost navy. The Edinburgh New Year fireworks display is pretty special too. I was coming back from a gig in Glasgow last year so I stopped the car and watched it from the West Approach Road.  It was prime spot and I had a terrific view away from all the crowds."
Favourite walk?
"I love a beach walk so it would either be at St Andrews or Portobello. A bracing walk followed by a bag of chips."
Salt and sauce or salt and vinegar?
"I like my chips nice and dry and devoid of any strange liquids, so neither thank you very much."
Best thing about living here?
"The bars open really late. I love that sort of cafe culture. But when I first came here, I kept staying out far too late because I was waiting for them to call last orders and chuck me out hours before they actually did! I also like Scottish politics. Things are very egalitarian. I remember going into Stockbridge library during the Fringe and asking if I could use their photocopying machine. The librarian said, 'Of course you can, it's YOUR library.' I thought that was fabulous. There's a real sense of community."
Favourite journey?
"The winding road from Aberdeen to visit my sister-in-law in Fochabers is pretty spectacular. Also the roads through the Borders that I use regularly driving to gigs are gorgeous.  I would love to see lots more of the countryside but my husband is a city lover. He's allergic to both greenery and cows!"
Favourite bands?
"I'm a big fan of Edwyn Collins. Also Bobby Gillespie of Primal Scream. I like a bit of Franz Ferdinand too. I can even tie- in one of my all-time favourite bands. Did you know Jo Strummer of The Clash's mum was Scottish? Well, you do now!"
Favourite way to spend a day off?
"It's not very rock 'n' roll but I love gardening. It helps me relax and switch off. I particularly love the manual side of things – the heavy lifting and the power tools. I do like a gadget or two. If I'm not strimming and hacking my way through the garden, I'll generally be out on my bike. The cycle paths and waterways are fantastic places to explore. I like going all the way out to Cramond Island."
Pick up the January issue of the Scots Mag to catch our big interview with Jo. Subscribe to get a copy posted out to you, or download the digital version here.
---
See Jo live…
Jo is currently working on a show for her new tour. To find out when she'll be playing in your area check out her website at:  www.jocaulfield.com.