Our June 2015 Issue
---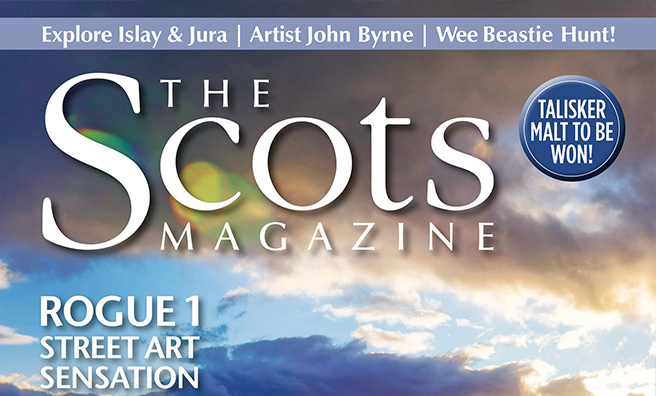 Welcome to the sneak peek of our new issue.
June's magazine is packed with 132 pages of big-name interviews, things to see and do, an Outlander Special and an exclusive report on the Battle of Waterloo by Wellington himself!
Whisky connoisseur Euan Duguid visits Talisker distillery  – and we have two bottles of the distillery's latest release, Talisker Skye, to give away
We chat to the enigmatic John Byrne about his paintings and the release on DVD of Your Cheatin' Heart, one of the first TV ventures for Eddi Reader, Ken Stott and Tilda Swinton.
The blooms of the Hebrides take Jim Crumley's breath away
Diana Gabaldon describes the inspiration behind Outlander, and her reaction to the TV series
This month's Focus is on the hills, distilleries and wild land of Islay & Jura with a tour by camper van and kayak
Continuing the Outlander theme we explore the Scottish film locations for the series, and take a tour of Edinburgh's 18th century closes to find the real-life counterparts of Claire and Jamie Fraser
Percussion pioneer, Dame Evelyn Glennie has a new dream to focus on
The Inside story of Waterloo: a remembrance of the battle, and a very detailed report from our 1815 archives by the Duke of Wellington himself
Gregor Fisher tells us how he feels about returning to the Scottish stage as Yer Granny
Find out how one graffiti artist is turning street vandalism into high art in Glasgow
Discover how a set of blood-stained bagpipes survived World War One and continue to be played to this day
Fancy setting up on Barra? There's a 3-star hotel on the market for the first time in 40 years
Carina Contini gives us her grandfather's recipe for real Italian ice cream
Intrepid explorer Cameron McNeish walks the oldest rocks on earth in the Torridon range
Ewan Morrison speaks to us about his six award-winning novels and the darkness that inspired them
Take a Hike in the Pentlands for incredible views with Nick Drainey's guidance, or get On Your Bike for a long,wild ride out of Fort William
We chat to one of the Great British Menus star chefs, Mark Greenaway
Scotland's first salt cave has some incredible health benefits
Our golfing spotlight is on why Castle Stuart Golf Links is living up to its hype
The June issue of The Scots Magazine is in shops now – or you can order online by clicking here.