Kaye Adams Lets Loose!
---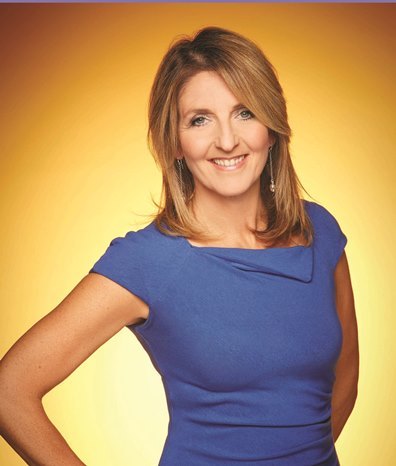 Kaye Adams
When she was growing up in Grangemouth, journalist, television presenter and broadcaster Kaye Adams was dreaming of courtroom drama rather than newsroom deadlines. In fact, it wasn't until Kaye was at Edinburgh University that she decided to become a journalist.
"I'd always wanted to be a lawyer but I soon realized it wasn't for me. I then became involved with the student newspaper, loved it – and that was it."
Kaye's first big scoop was an interview with Margaret Thatcher for Central Television, where she was a graduate trainee journalist. "She struck me as incredibly clever and intuitive and within five seconds, she realised how young, inexperienced and nervous I was. All my views of 'I'm gonna tell her what I think' dissipated. I was like a lamb to the slaughter but it was an amazing experience."
Those years at Central TV as a cub reporter were invaluable to Kaye. "We had time to watch and learn. We were sent on courses to London with ITN and Channel 4 and had access to Parliament and politicians."
Although spending time in Westminster and mixing with leading politicians was exciting, it soon dawned on Kaye that this wasn't the road she wanted to take. "Westminster felt like one big male club and I began to feel disenchanted with it all."
In 1988, a job offer as a reporter with STV proved to be fortuitous, although Kaye confesses she was in no hurry to return north of border. "I thought London was where it was all happening and came back very reluctantly. However, once I arrived, I was aware of this strong sense of belonging."
It was during this time that Kaye found herself at the centre of the Lockerbie Air Disaster. "I was on my way to report on a meningitis outbreak in Monklands when I got the call that there had been a plane crash. I diverted to Lockerbie and, as I went down the A74, the horror began to unfold.
"That road is usually like a race track but it was blocked so I parked the car and began to walk, following the flames. The debris was ankle high and we passed umpteen burnt out cars before arriving at a massive crater where the fuselage had smashed to the ground, wiping out whole houses. While the fire services were pouring water on the crater, I had to do a live eye witness report.
"I was a gibbering wreck but my boss calmed me down and was fantastic, talking to me all the time, asking questions.
"Afterwards, we walked to the outskirts. It was a chilly evening with strong moonlight and all I could see were white lumps in the field that I thought were sheep. They were frozen bodies."
A chance opportunity in 1992 marked the start of Kaye's career as a talk show host. Sheena McDonald left as anchor of the programme 'Scottish Women' and Kaye begged her boss to let her 'have a shot'. Numerous network shows followed, culminating in what she describes as the highlight of her career, 'Loose Women'.
Kaye believes the quintessential earthiness of the Scots has had a positive influence on her work. "We have a fundamental sense of fairness and decency and don't tend to be overawed by people because of their position, which is a good trait to have as a journalist. We don't take any nonsense. I'm not going to not to ask someone an uncomfortable question because of who they are. Everyone should be treated the same."
The full-length version of this interview appeared in the March 2014 issue of The Scots Magazine.