Kelvingrove Museum Opens Revamped Life Gallery
---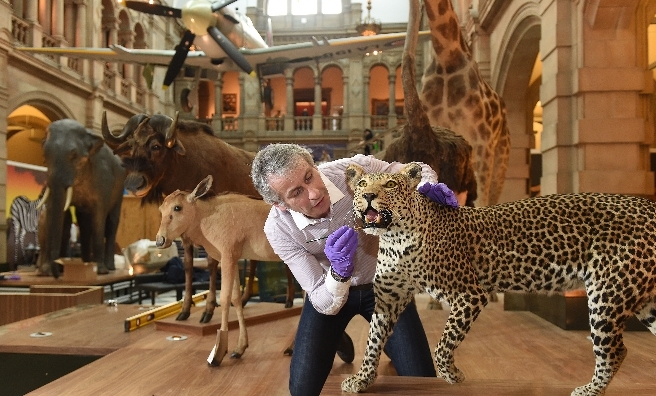 Preparing the exhibits for Opening Day
Visitors to Glasgow's Kelvingrove Museum can now experience life in the Serengeti, the Indo-Malay tropical forests and Antarctica in the space of one afternoon.
On Saturday, April 2, Kelvingrove Museum and Art Gallery's popular Life Gallery reopened after undergoing the first phase of its redisplay, which enables visitors to learn about intriguing new specimens from the Natural History collections have never been on display before.
The museum's designers have developed new family-focused displays, which group animals from the same areas of the world in distinct eco-zones, while also looking at migratory species that live across more than one region.
The return of Sir Roger and Kelvin, the Asian elephants
Sir Roger and Kelvin, the Asian elephants, return to the Life Gallery, which is consistently one of the most popular areas for families and children in Kelvingrove. They are joined by a host of exciting new animals, including the smallest of the big cats, a leopard, donated to the city from Glasgow Zoo, and a wandering albatross, which was obtained for Glasgow Museums by the British Antarctic Survey.
"We're delighted to welcome visitors back to the redesigned Life Gallery at Kelvingrove," said Manager of Kelvingrove Art Gallery and Museum, Neil Ballantyne.
"This gallery always ranks highly on the must-see list of many of the million-plus people who visit the museum every year, so it was important we got the refresh right. After listening to the views of visitors, we've developed displays with children and families in mind, such as the story of the Serengeti animal migration and life in the forests of India.
"The remodelling of the Life Gallery at Kelvingrove is the largest display change since the building re-opened in 2006. I'm pleased Sir Roger is back on display – he and his new animal friends are rightly a huge draw and loved by the public, young and old."
A significant public fundraising campaign
The redesigned gallery was made possible with the continued support of the independent charity Friends of Glasgow Museums, a donation from Glasgow Museums Patron's Circle and a significant public fundraising campaign.
Chair of Friends of Glasgow Museums, Liz Dent, added: "I hope today's generation get as much pleasure from the Natural History display as previous generations have.  It is because so many Friends loved Kelvingrove in the past and continue to do so today that we have been able to use their donations in this way."
For more information, click here.