Take A Look At The East Neuk!
---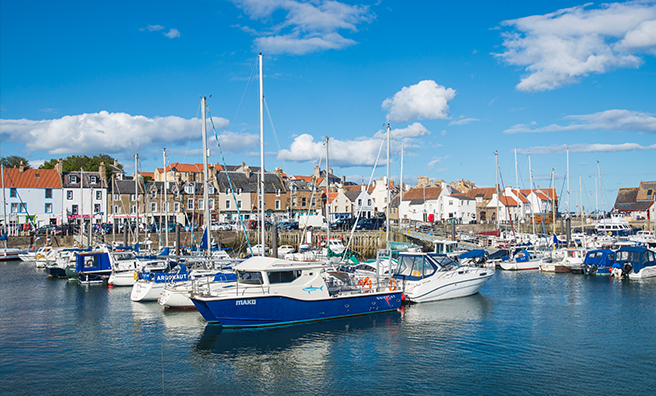 Fife is the star of this month's Focus, and the East Neuk is the jewel in its crown
Fife's East Neuk is, more or less, a kingdom within a kingdom. It's a separate entity that has its own classical music festival, and many of the towns and villages host their own events, from food festivals to craft fares.
The word "neuk" comes from nook or corner and this nook runs, approximately, from just north of Earslferry to north of Crail and comprises of all the coastal villages and the land and villages slightly further inland.
You can find some of the most picturesque fishing villages in Scotland here – a testament to the heritage of fishing that was the main source of employment in the area for decades.
At one point the harbours were so full of fishing boats that you could walk from one side of a harbour to the other simply by stepping from boat to boat. But once the North Sea herring shoals disappeared, so did the fishing fleets.
Now it's mainly pleasure craft that moor in the harbours of villages like Crail, Anstruther, Elie and Pittenweem. The only reminder to the great fishing days is the Scottish Fisheries Museum in Anstruther which tells the story of Scottish fishing from the early times to the present day.
Today, many of the villages are popular holiday resorts, and there's something very relaxing about a stroll down narrow cobbled harbour streets. That stroll gets even better with a freshly cooked fish supper, a delicacy many of the villages can offer!
The quiet roads are ideal for cyclists, the Fife Coastal Route is easily accessed and if you want some urban mix, St Andrews is only half an hour's drive at the most.
Take a look at the Neuk! You won't be disappointed.