Falling In Love With Lochaber
---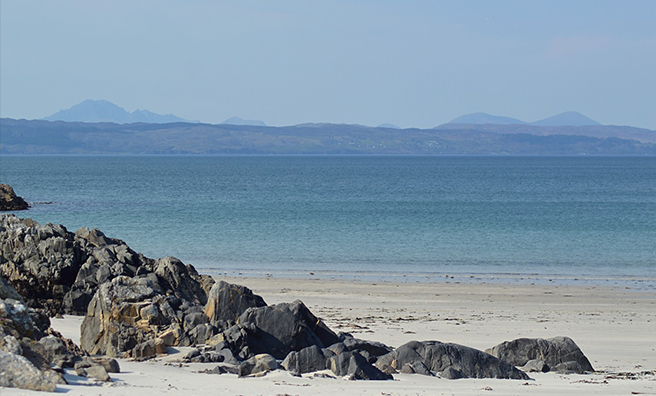 Laura Brown from the Scotlanders spent time in Lochaber for the first time in years, and discovered
a side to the area she hadn't glimpsed before…
After spending every summer in Arisaig when I was wee — usually in a damp caravan — my recent west coast travels surprised me for two reasons. First, a tinge of guilt as I realised I'd never explored the Moidart coast, and second, shock at the burning orb in the sky… which didn't exactly match my childhood memories. It's true what they say – there's nowhere better than Scotland in the sunshine.
Back at the beginning of May, I headed west from Edinburgh — a four-hour drive, no less — to spend just 24 hours in rural Lochaber. With the car, we had the freedom to explore the wild and wonderful west coast until we were wind-battered, burnt and freckled. Here's the highlights from this beautiful corner of Scotland.
Low tide at Castle Tioram
Perched on a rocky island with a causeway covered at high tide, Castle Tioram deserves its reputation as one of Scotland's most romantic castles. You'll find this imposing stronghold at the end of a twisting single-track road, which weaves past water and weighty cliffs before opening out into the bay.
The castle dates from the 1200s with later additions of apartments and seventeenth-century tower house. Tioram's pentagonal curtain wall, however, is the only part of its skeleton still tangible to visitors. Cast aside your disappointment at not being able to explore inside though, and you'll find eyefuls to admire in the surrounding scenery… which, characteristically of the west coast, is just breathtaking.
Caribbean? Nope, it's Camusdarach!
Follow the Lochaber coast further north and you'll find a beach that, in my opinion, far exceeds the beauty of its sister, the Silver Sands of Morar. Head past a wind-battered wooden gate, and the path will twist into sand dunes before showcasing the yellow, turquoise and dark blue hues in the panorama before you.
This is Camusdarach Beach, once famous in the 1983 film Local Hero but now more known for its seclusion and unbeatable scenery – again, my humble opinion!
Ahead are the Small Isles of Eigg and Rhum whilst Skye — and its shark-toothed Cuillin mountains — are visible to the right. Although a fairly short stretch of beach, Camusdarach's fine white sand and multiple bays (hidden behind rocks and dunes) make for a stunning wander that's surprisingly quiet, given the beauty of this shore.
May nights in Moidart
Finally, I should give a shout-out to our 'base of operations' during our overnight stay: the boutique Mingarry Park bed and breakfast. Tucked away in the tiny township of Acharacle, the B&B boasts cracking views over to Beinn Resipol and the hidden Loch Shiel below. We arrived just as the sun was setting, turning the surrounding hills purple and casting Mingarry's herd of deer into shadow.
The following day kicked off as only a Scottish morning can — with black pudding, bacon and haggis sourced from local producers. Rooms at Mingarry Park start from £100 per night and — along with giving your west coast tour a good chunk of luxury — this B&B is in a pretty ideal location to head further west to Ardnamurchan and continue falling in love with Lochaber.
---
Join The Chat
Share your favourite parts of the west coast over on social media, where you can find Laura on

Twitter

 and Instagram.