Mackintosh Centrepiece for Dundee's V&A
---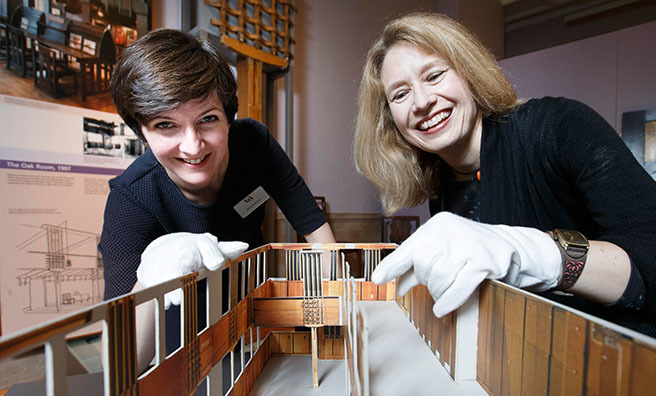 V&A
The new V&A Museum in Dundee will have an enviable centrepiece from Charles Rennie Mackintosh – 50 years after it was last seen in public
The Oak Room is Mackintosh's largest interior for Miss Craston's Ingram Street Tearooms in Glasgow, and the 600 surviving panels and intricate woodwork are to be reassembled for public display at the V&A Dundee for the first time in 50 years.
At 13.5 metres long, the Oak Room has been described as the "sleeping giant" of the Ingram Street tearoom. Designed by Mackintosh in 1907 and completed in 1908, the completed tearoom would influence his design ideas for the Glasgow School of Art Library, completed a year later.
Salvaged in advance of a hotel development in the 1970s, the room was taken apart for storage in Glasgow City Council's museum collections and sadly lost to the public.
Bringing a lost gem back for public display
Thanks to a long-term loan by Glasgow Life and grant funding from Heritage Lottery Fund Scotland, however, the Oak Room will be the centrepiece of V&A Dundee's Scottish Design Galleries, a set of galleries which will showcase the significance and relevance of design – with a particular focus on Scottish achievement.
"When we set about planning the Scottish Design Galleries for V&A Dundee it was vital Mackintosh, recognised around the world as one of the great and most influential of designers, was represented appropriately." said Philip Long, Director of V&A Dundee. "It is extremely fitting that the public will be able to see such a major work by him at the heart of that story."
Focusing particularly on the international reach of Scottish design, both historically and today, the galleries will have a strong emphasis placed on the design process, materials and technological innovation, showcasing the breadth of Scottish creativity and innovation.
Mackintosh made a unique and significant contribution to Scottish design
Councillor Archie Graham OBE, the Chair of Glasgow Life and Depute Leader of Glasgow City Council, said: "This is a fantastic example of joint working, which will bring back this lost gem for public display, confirming Mackintosh's unique and internationally significant contribution to Scottish design history.
"Each time our staff work on these rooms they discover Mackintosh's ingenuity for creatively arranging interior spaces into complete works of art. We hope this exciting collaborative project will allow us to uncover many more of Mackintosh's design secrets for everyone to enjoy."
The V&A Dundee is currently under construction as part of Dundee's waterfront redevelopment, and will be open to the public in 2018 – the 150th anniversary year of Mackintosh's birth.