Behind The Scenes At Mary King's Close
---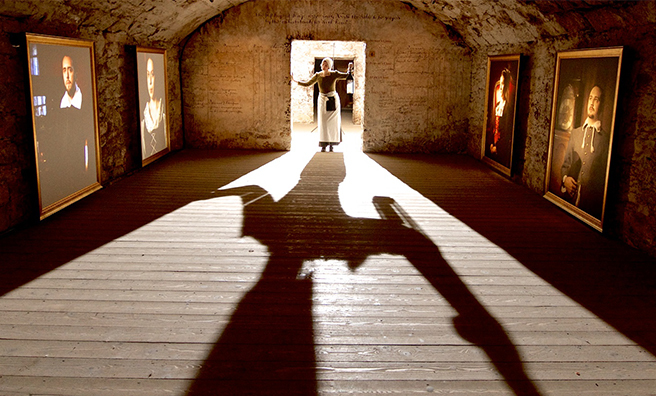 The famous 17th-century close off Edinburgh's
Royal Mile has a new tale to tell
Visitor attraction The Real Mary King's Close boasts one of the most interesting sites in Edinburgh's Old Town – a 17th-century street, preserved beneath today's City Chambers.
Since 2003, Continuum Attractions has operated tours of the close, leading visitors underground to discover the harsh life of the close's inhabitants in times gone by.
I was invited along to preview their newest tour, Condemned, a Hallowe'en special that focuses more than ever on the former occupants of the close. Our tour guide, Rachel, introduces us to one of the tour's main characters, Euphamie MacCulzean, a 16th-century Edinburgh woman who was accused of witchcraft and burned alive at the stake.
Giving Edinburgh's Old Town A Voice
Euphamie's tale is as fascinating as it is horrifying, and it's one that hasn't been told in hundreds of years. This is the goal of The Real Mary King's Close, to entertain and enlighten, but also to finally give the long-forgotten inhabitants of Edinburgh a voice. Their stories are uncovered and collated by Keith Baxter, tour creator, with an onsite archaeologist, and researcher, whose ongoing and painstaking research provide the evidence for the tours.
"Euphamie is one of my favourite characters," said Keith. "She's one that's almost never mentioned, and the fact that the power at the time was almost parallel to the street she lived on is interesting because she went through so much in her life, yet has never really had a voice before.
"The purpose of the tour is to give a voice to those who have never really been heard – even in their lifetime."
Ghouls And Goblins
"Condemned had to be whittled down considerably – there's so much information, but the problem is so much of it can easily be disregarded because there's no real evidence for it."
"I'll cross-reference as many things as I can to get the truth. Annoyingly the really interesting stuff is the stuff you have to throw away! I've come across all kinds of things, but the obscure stuff like evidence of goblins – there's no way I could ever put that in!"
Goblins aside, there is still a wealth of information for Keith and the team to mine for new tour ideas. Right now he's finishing up the Christmas tour, and looking ahead to next year.
"The next thing I'm thinking of is a kind of medical history tour. One of our characters, Robert Ferguson, died in an institution, and those in power at the time were so appalled by the state in which he lived that it caused many reforms to be passed. It would be great to explore that in detail, but it's purely an idea at this stage!"
We'll keep you posted…
---
Visiting Info
Condemned runs at 10.15 pm, priced at £16.95 per person on the following nights:

Friday, October 13
Saturday, October 14
Thursday, October 19
Friday, October 20
Saturday, October 21