The Melrose Tart
---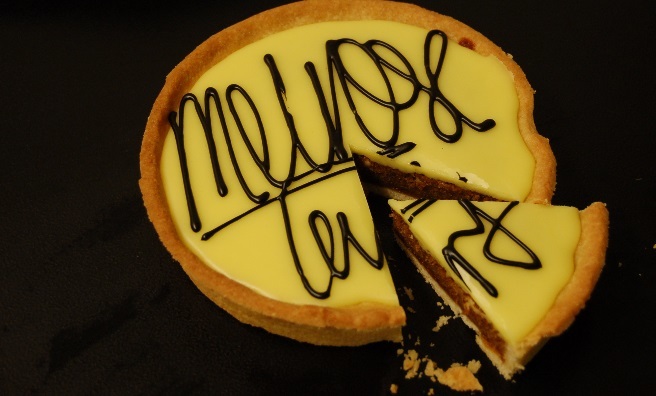 Melrose Tarts will take centre stage on the menu at Aberdeen Asset Management's Melrose Sevens.
Never mind Arbroath Smokies, Stornoway Black Pudding or French Champagne, the Borders has its own regional delicacy: the Melrose Tart.
The Melrose Tart is a tempting delicacy made from ingredients linked to the town, namely honey, brown sugar and ginger.
Alex Dalgetty & Sons, a fifth generation family bakery which has been in business for over 100 years, combined these locally renowned goodies to make a tasty tart unique to their bakery.
'Traditional handmade home-baking'
"The Melrose Tart was invented by my father for the millennium ," revealed Craig Murray, the original Alex Dalgetty's great great-grandson. "We're known for traditional handmade home-baking so the tarts are full of natural ingredients, all of which are linked with the town, while the bright yellow icing with black writing represents the colours of the rugby club."
Craig explains that, during the Aberdeen Asset Management's forthcoming Melrose Sevens, Melrose Tarts will be taking centre stage in the hospitality tent, where they will feature on the tournament's afternoon tea menu.
"It's an honour for us to have our food on the menu of the key event in Melrose's sporting calendar," continued Craig, who explained that the recipe for Melrose Tarts is a closely-guarded family secret.
'Time to shine a light on the Melrose Tart'
As the whistle blows on 11 April 2015 for the 125th playing of the tournament, the organisers fully expect the the hospitality tent to be as busy as the rugby pitch.
"Every year, we offer tempting cuisine to our corporate guests, sponsors and VIPs," said Douglas Hardie, Marketing Convener of Aberdeen Asset Management Melrose Sevens Tournament. "We rely on locally-sourced products and recipes to showcase the range of food available in the Borders and it was time to shine a light on the Melrose Tart."
The 125th playing of the Aberdeen Asset Management Melrose Sevens takes place on the April 11, 2015., when teams from across Scotland will compete against international teams in the Borders town of Melrose.
To find out more, click here.
For lots more foodie features, pick up a copy of this month's Scots Magazine or order a copy online by clicking here.
---
The Ingredients
Honey has been produced in Melrose since the twelfth century when beekeeping monks at Melrose Abbey used it as a sweetening agent.
Sugar and ginger are associated with Robert Waugh, a well-known 19th century Melrose merchant who started life as a joiner and went on to make his fortune in Jamaica.
---
Other Borders Treats
Other treats linked to the Borders include:
A rich fruit bread called the Famous Original Selkirk Bannock, another baked delight unique to Alex Dalgetty & Sons
Border Tart, a coconut and almond sponge
Jethart Snails, which are peppermint boiled sweets handmade in Jedburgh
Hawick Balls – a minty, buttery boiled sweet treat that was a personal favourite of renowned rugby commentator Bill McLaren.