Mons Meg Returns To Duty At Edinburgh Castle
---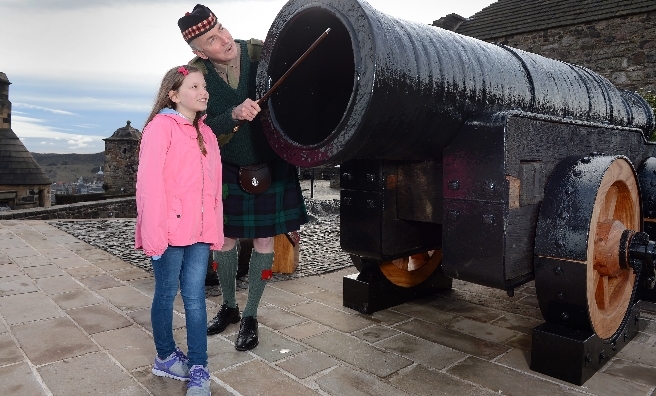 Beth Graham from East Kilbride and Major Niall Archibald of The Royal Regiment of Scotland inspect Mons Meg after her MOT has been issued. Photo by Neil Hanna.
Following specialist conservation work, Mons Meg, the world's most famous medieval gun, was welcomed back to Edinburgh Castle on Monday, March 23.
The six tonne cannon – which dates from the fifteenth century – was removed from the castle in January, the first time that the famous cannon had left the castle in 30 years.
Over the past two months, Mons Meg has been subject to a series of conservation techniques from bead blasting through to 3D scanning before being carefully repainted. In addition, the oak carriage Mons Meg sits on – a replica of a 16th century carriage – also underwent conservation and repair works by Historic Scotland's expert joiners and blacksmiths.
'Visitors travel from all over the world to see her'
"We are delighted to welcome Mons Meg back to the castle," said Nick Finnigan, Executive Manager of Edinburgh Castle. "Visitors travel from all over the world to see her and be photographed by this most famous of historical icons and I'm sure they will be thrilled to see her back on display."
Richard Welander, Head of Collections for Historic Scotland said: "Mons Meg undergoes regular 'health checks' and inspections but this was the most detailed and intricate work we've carried out on her in almost 30 years.
'One of Edinburgh Castle's most-beloved treasures'
"Mons Meg is one of Edinburgh Castle's most-beloved treasures and carrying out these essential works ensures she'll be in top condition for visitors to enjoy for years to come."
Edinburgh Castle is open from 9.30 am to 6 pm daily until the end of September. To visit Mons Meg, click here for ticket information.
---
Mons Meg
 Mons Meg was given to King James II by Duke Philip of Burgundy in 1457.
She was capable of firing a 150kg gunstone for up to 3.2km (two miles) – and to devastating effect.
James II had Mons Meg hauled 50 miles to besiege Roxburgh Castle in 1460.
James IV used Mons Meg to besiege Dumbarton Castle and to attack Norham Castle in northern England.
Mons Meg ended her fighting days in King James V's navy and was taken out of military service in about 1550.
Mons Meg was still used to fire salutes and in 1558, she fired a stone ball to Wardie Muir, where the Royal Botanic Garden now stands, to celebrate the marriage of Mary Queen of Scots.
Mons Meg's barrel burst when she was fired in 1681 as a birthday salute for the Duke of Albany. She was dumped at Edinburgh Castle and remained there until 1754, when she was taken to the Tower of London following the Jacobite Uprising.
She was returned to Edinburgh Castle in 1829 after a series of campaigns by Sir Walter Scott and the Society of Antiquaries of Scotland.
Brought by boat to Leith, Mons Meg was then escorted by three troops of cavalry and a foot regiment, up the newly-opened Leith Walk back to the castle.