Mrs Thompson's Wartime Wedding Cakes
---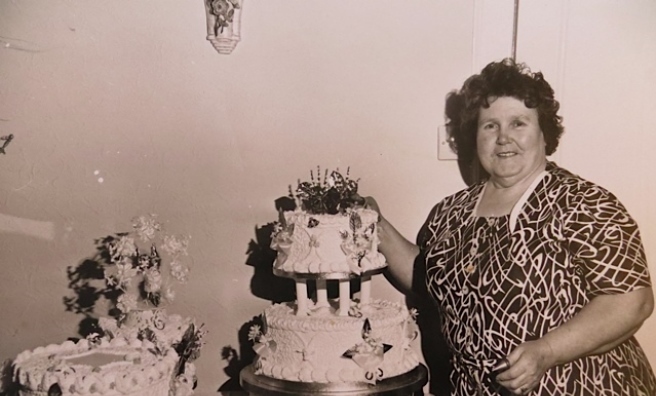 Mrs Thompson with two of the 2,000 wedding cakes she baked in her lifetime
An unsung heroine who helped countless wartime couples celebrate their marriage has been honoured by the hotel where her wedding cakes took pride of place over 70 years ago.
The Dumbuck House Hotel in Dumbarton has named its new luxury honeymoon suite The Thompson Suite in memory of Mrs Agnes Thompson, who, during World War II, made free wedding cakes for young sweethearts who married before the groom was rushed to the battlefield, often never to return to his new bride.
Mrs Thompson's baking skills were famous in the local area and during the wartime years, almost every week, she would make a wedding cake for at least one couple's happy day – and would often also make the bride's dress.
'Every cake was a community effort'
"My mother refused to take a penny for her services, understanding the precious nature of the gift she was able to give," said Mrs Thompson's daughter Joan Baird, who, as a young girl would be given the job of stirring the cake mix. "Every cake was a community effort as, with rationing in full effect, each wedding guest was asked to donate an ingredient for the wedding cake."
The wedding outfits made by Mrs Thompson were also a community effort, with local women passing on their old wedding gown so they could be altered to fit the new bride.
Mrs Baird contacted the owners of The Dumbuck following an appeal to unearth hidden stories from the hotel's 216-year history.
"My mother did do so much to help so many families during the war and naming the hotel's honeymoon suite after her is a lovely way to remember her," added Mrs Baird, who also has a reputation as a prolific and skilled baker. "She had such a big heart."
Commemorating those who played a part in The Dumbuck
Husband and wife team Petra and Tommy McMillan took over The Dumbuck in May 2014 and are committed to restoring its proud country house hotel heritage – and commemorating those who played a part in the history of The Dumbuck.
"We are so pleased to be able to bring characters such as Mrs Thompson to life and pass her story on to our guests. "It's very important to us that we respect our history and the affection that so many people have for the hotel."
For delicious recipes and mouthwatering tales of Scotland's food and drink, pick up a copy of this month's Scots Magazine. In the shops now or order online by clicking here. 
---
Wartime Weddings
During World War II, marriage rates soared by 20%.

Rationing was so tight, wartime wedding cakes were sometimes made from cardboard and for display only.

Fabrics were rationed, too, so wedding dresses tended to be much simpler than in previous decades- of the bride would wear her best dress and hat.

Ration coupons would often be pooled so there could be food and drink at the reception.