Music At Paxton
---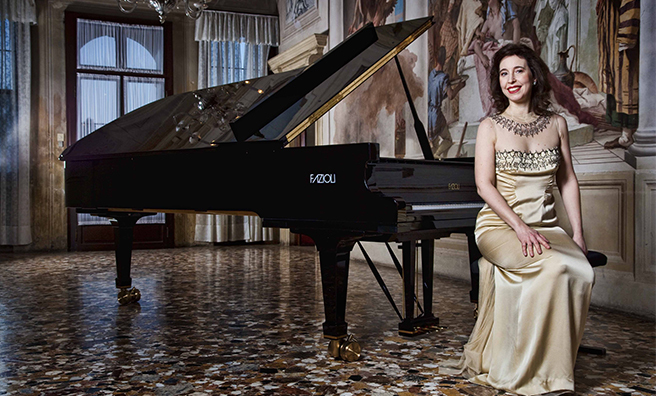 Witness a mansion brought to life…
Paxton House is an 18-century Palladian stately home on the bank of the River Tweed.
Just a few miles west of Berwick-upon-Tweed it boasts original interiors and Chippendale furniture.
Even if there's no music playing, it's worth a visit. But when the halls are alive with the sound of music for Music At Paxton… it's unmissable!
The Festival was established in 2006 and has grown from humble beginnings to a ten-day summer spectacular.
It has brought artists to the Borders such as Alasdair Beatson, the Hebrides Ensemble, the Scottish Ensemble and the Heath Quartet.
This year's Music at Paxton festival opens with a specially-curated weekend residency with violinist Alina Ibragimova, cellist Pieter Whispelway and Cedric Tiberghien (piano).
Amongst the music performed will be sonatas, by Beethoven, Brahms and Reger and solo cello suites by JS Bach.
Other artists appearing at this year's festival include pianist Angela Hewitt (above), The Scottish Chamber Orchestra Wind Soloists, and the Van Kuijk Quartet. But it's not all wall-to-wall classical music.
A More Unusual Combination
Granny Green, an all-female ensemble of trumpet, accordion and tuba – quite an unusual combination – will add a touch of contemporary folk with an innovative twist.
It's fair to say that Music at Paxton would not have come about had it not been for Helen Jamieson, artistic director. In 2005, a series of summer concerts at Paxton seemed to have reached their conclusion and Helen was tasked to find some way to continue.
Using her expertise as a music consultant she and a newly-elected board piloted a weekend of concerts in 2006. Such was the success that they were able to build on it, bringing the best musicians.
The building's Picture Gallery with its 140 seats is an intimate setting and is ideal for chamber music.
"For this year's Festival, we've managed to pull together a line-up of some of the most exciting players on the international chamber music circuit," says Helen.
"To hear artists of this calibre in the peace and beauty of Paxton House, in the heart of the Borders countryside, should be a truly magical experience."
---
Find Out More!
Music at Paxton takes place from Friday, July 15 until Sunday, July 24.
Click here for tickets and programme information.