National Park Campaign Steps Up
---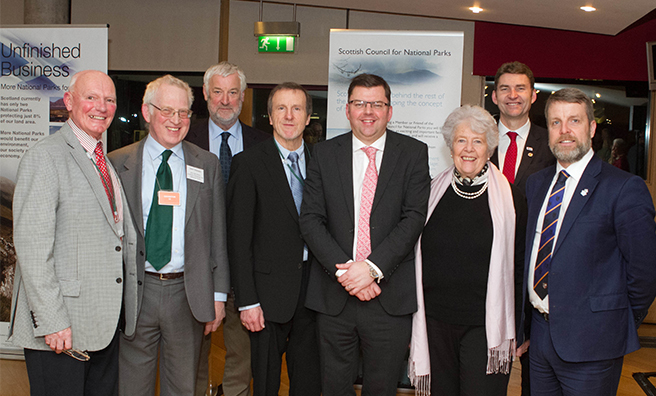 The Scots Magazine was at Holyrood last week, to support the campaign for more National Parks in Scotland.
A special exhibition and reception at the Scottish Parliament showcased the work of the Scottish Campaign for National Parks (SCNP) and the Association for the Protection of Rural Scotland (APSR), who jointly run the campaign to establish more Parks in Scotland.
The event, entitled "Unfinished Business – More National Parks for Scotland",  was sponsored Finlay Carson, MSP for Galloway and West Dumfries.
Scotland only has two National Parks – Loch Lomond and The Trossachs, and The Cairngorms – and these events were organised to make the case for up to seven more parks.
Speakers included SCNP president Sir Alex Fergusson and chairman Ross Anderson, as well as Carol Ritchie, executive director of the EUROPARC federation that represents many of Europe's protected areas. Together, they laid out the significant economic, environmental and social benefits more National Parks would bring to the country, comparing Scotland's two parks with Norway's 44.
It's a campaign that we at The Scots Magazine support whole-heartedly, and one with which we are proud to be associated.
Our Editor, Robert Wight, attended the drinks reception in the Members' Room at Scottish Parliament, Edinburgh. He said: "It's heartening to see the event so well-attended. It's a clear sign support for the campaign is growing.
"We know from our postbag that the public wants more National Parks in Scotland."
Join The Debate
Parliamentary Reception attendees received a booklet of all Scots Magazine articles on the National Park Campaign to date, featuring arguments on both sides of the campaign.
In our latest issue Graham Barrow and John Thomson outline the economic benefits of having more National Parks, and in our March issue we'll be publishing a selection of the many readers' letters we've received on the issues discussed.
Pick up a copy to join the debate.