National Trust for Scotland Appeals for Happy Ending For Heritage
---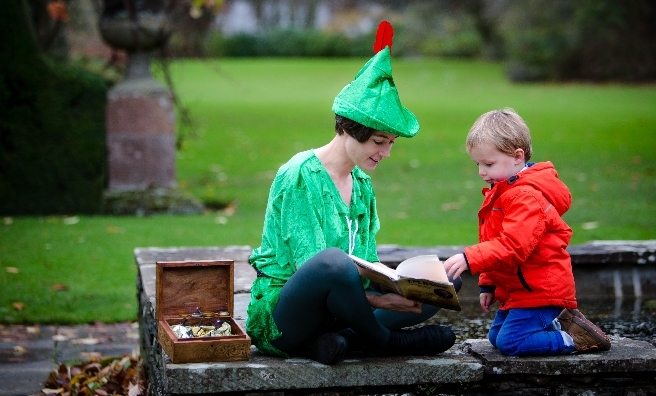 Peter Pan flies in to Falkland Palace, Fife to share heritage stories with Joe Sutherland (3).
Conservation charity the National Trust for Scotland (NTS) may care for some of Scotland's most enchanting heritage locations but in its new fundraising campaign, Chief Executive Simon Skinner issues a stark message – looking after Scotland's heritage is no fairytale.
The National Trust for Scotland cares for 188,000 acres of countryside, many miles of coastline, historic castles, palaces and houses, gardens and even the place where one of the world's best loved fairytales – Peter Pan – is said to have been dreamt up by the author JM Barrie.
'Scotland's heritage needs to be protected'
In a letter to 40,000 Trust members, charity Chief Executive Simon Skinner said: "Although time stands still for the ever-young Peter Pan, this is most certainly not the case for our properties. Scotland's heritage needs to be protected every minute of every day.
"There is no 'magical solution' to protecting Scotland's heritage. It is incredibly hard work and takes a lot of time, effort and commitment – and funds."
£50 per minute
It presently costs around £50 per minute just to keep the National Trust for Scotland's heritage treasures in their current condition, protected from insects that could ravage delicate textiles, torrential rain and floodwaters that wash away paths and overwhelm gutters and even light itself, which damages precious paintings and furniture.
The NTS' 'I'm in for the future' appeal will raise vital funds to ensure that treasured places in the charity's care can be maintained now and for future generations, with the campaign aiming to raise £150,000.
Vital conservation work across the Trust
Funds raised from this appeal will go towards vital conservation work across the Trust, such as repairs to the Glenfinnan Monument in Lochaber.
The monument, which commemorates the 1745 Jacobite rebellion and is celebrating its 200th anniversary this year, has been ravaged by the elements. Around £160,000 is needed to enable the charity to carry out important repairs to prevent further erosion of the monument and ensure that it continues to stand for another 200 years.
For more information about this appeal, click here.