Incredible New Home for the RSNO
---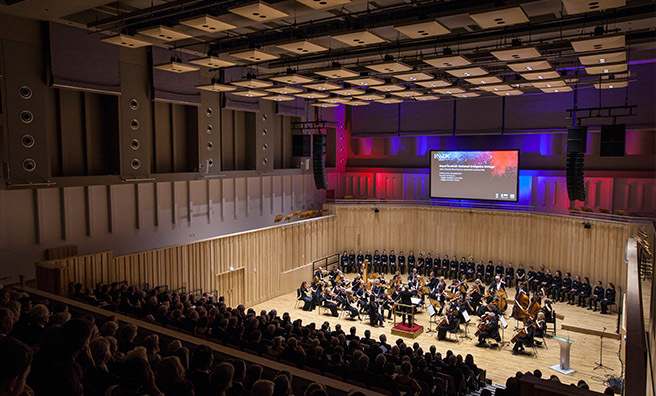 Every orchestra needs a home but few have anything as chic, custom-built and state-of-the-art as that of the Royal Scottish National Orchestra
Forsaking their old home of Henry Wood Hall in Glasgow's Claremont Street, the RSNO have recently moved to sparkling new premises adjacent to Glasgow's Royal Concert Hall.
The new RSNO Centre was designed by Glasgow City Council's in-house team of architects and with the assistance of acoustic specialists ARUP, they have created a new home that doesn't only provide a 600-seater concert hall and rehearsal facilities but also has increased scope and flexibility for the organisation's education and learning programme.
Innovative seating
The rehearsal floor can be adapted to suit proceedings, with side balconies that fold against the wall to increase space for the orchestra. In turn, the balconies can be turned out thus narrowing the room and giving intimacy with audience.
Adjustable acoustic banners vary the sound absorption in the space, depending on the use and repertoire. Fully retracting the banners results in maximum reverberance (and loudness), ideal for chamber recitals. Partially deployed banners control the loudness, for instance in orchestral rehearsal situations, while retaining suitable reverberance. For amplified music, a well-controlled acoustic is necessary, free from echoes, which is achieved by exposing the maximum banner area.
The new building also includes enhanced foyer space for audiences, a music library for their extensive archive plus rooms for rehearsal private practice and administration technical services.
A grand unveiling
The building was officially unveiled with a gala concert, and one if those in attendance was Cabinet Secretary for Culture, Europe and External Affairs, Fiona Hyslop.
"Five years ago, I visited the Royal Scottish National Orchestra's rehearsal space in Henry Wood Hall," she says. "I made a commitment to the orchestra musicians that I would do what I could as Cabinet Secretary to help ensure they could move to a building fit for their talent and needs. With support from the Scottish Government, and from partners and donors, that commitment has been realised."
"The RSNO must be commended for its outstanding work in producing engaging learning programmes which have drawn in more than 270,000 people locally, nationally and internationally. This new state-of-the-art operational base will allow the RSNO to go even further thanks to a world class rehearsal space and new digital connectivity. The building also provides Glasgow with a purpose-built music venue to enhance the city's reputation as UNESCO City of Music."
Most importantly, the new building was designed with the best possible ecological credentials with state-of-the-art lighting that runs off a fraction of the power of current used for concert lighting specifications. It fully deserves its boast to possessing one of the best green ratings of any concert venue in the UK.
---
Coming Up
The new centre already has a great line-up of events to give visitors the chance to bathe in the new acoustics.
Lunchtime Sessions for £7.50 include soup, sandwiches and scones with an hour's live music, while the Masterclass Sessions provide the opportunity to hear the best in their field lead masterclasses for younger musicians.
Click here to find more concerts coming soon.