Northern Lights Shine On Scotland's Top Designers
---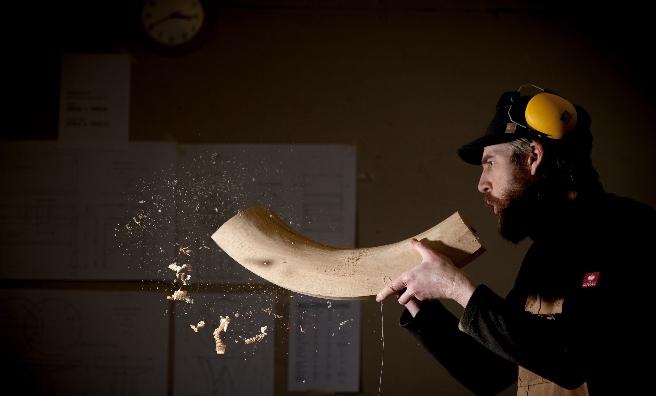 Angus Ross - bespoke furniture maker
As part of the London Design Festival, V&A Dundee is holding a show, Northern Lights, at V&A London from September 17-25.
Northern Lights will showcase the work of designers who have chosen to stay in Scotland to build their careers. The products on show range from hand-crafted wooden furniture bent by steam to ceramic jewellery and sustainable fashion, reflecting the bold confidence of the current Scottish design scene.
The designers and companies taking part in Northern Lights at V&A London are:
One of the world's most important design events
First staged in 2003, the London Design Festival is one of the world's most important annual design events. The festival programme is made up of over 400 events and exhibitions staged by hundreds of partner organisations across the design spectrum and from around the world.
"The London Design Festival allows us to highlight these most exciting contemporary product designers, showcase their ideas and ingenuity, and give them an opportunity – whether they are an established or emerging designer – to raise their profile internationally," said Philip Long, Director of V&A Dundee.
"Scotland has a great history of design and today there are many, many designers and manufacturers creating impeccably crafted new products, services and life-changing innovations across the country."
Phiip explained that Northern Lights is a partnership between V&A Dundee, Scottish Enterprise and Creative Dundee as part of the Scottish Government's Year of Innovation, Architecture and Design 2016, a celebration of the nation's global contributions to architecture, design, engineering and science.
'Milestone in Scottish design'
"Being selected by V&A Dundee for Northern Lights is a huge honour." said Beth Lamont. "Dundee was my home for four years while I studied design and from a very young age I fell in love with the magic of the V&A, so being a part of this milestone in Scottish design is beyond what I could have imagined for my small business.
"The opportunity this exhibition gives to shout loudly and proudly about all the amazing design happening right now in Scotland is phenomenal. I'm absolutely ecstatic to be a part of it."
'The centre of the design universe'
Glasgow-based designer Scott Jarvie added: "V&A London has been a great inspiration and influence on my work as a designer, since being captivated by the place as a child. London Design Festival will be the centre of the design universe in September, so I'm thrilled to be part of the V&A Dundee show, exhibiting alongside leading lights in contemporary Scottish design."
Northern Lights is free and in Gallery 55 at the Victoria and Albert Museum in South Kensington from September 17-25, 2016.
---
V&A Dundee
V&A Museum of Design Dundee will be an international centre for design, housed in a world-class building created by Japanese architect Kengo Kuma at the heart of Dundee's revitalised waterfront.
It will host major exhibitions, celebrate design heritage, inspire and promote contemporary talent, and encourage future design innovation.