Oor Wullie's BIG Bucket Trail – Discover 'Oor Friend'
---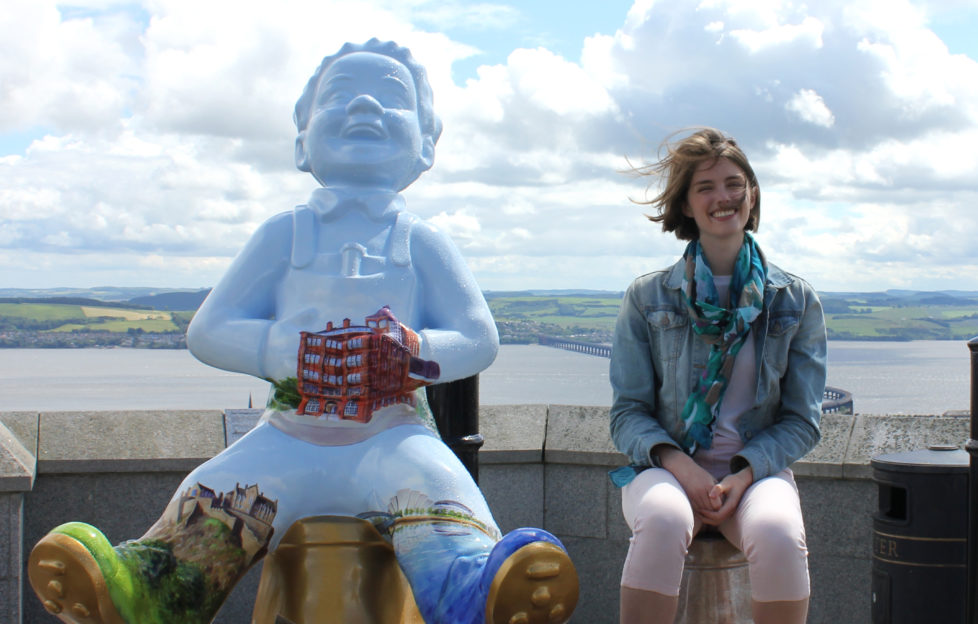 This fun-loving, charity art trail has taken over the streets of Scotland this month, so we're getting inside the creative minds behind some of the most stunning sculptures! Let's have a chat with The People's Friend Illustrations Editor, Sarah Holliday
Location: Dundee Law, Dundee
---
Tell us a bit about the design behind 'Oor Friend'
We wanted a statue that represented The People's Friend, and the most iconic piece of our brand is the cover artwork. So immediately we knew it had to showcase the cover art which is in the style of J. Campbell Kerr. But it also had to link to the trail, so I chose to paint the most prominent landmarks from the five major cities involved in Oor Wullie's BIG Bucket Trail.
I also painted the bucket and feet gold to represent our recent 150th birthday. And we've got some old vintage pages on the bottom from the early years when everything was black and white and there was no cover artwork yet.
So it's really a friendly and familiar blend of the old and the new, and the ever-present The People's Friend.
---
What was it like working on Oor Wullie's BIG Bucket Trail?
These days I'm primarily a digital artist, so I hadn't physically painted in ages. It was weird getting used to not having an 'undo button' or a 'change the colours button' like I have with digital. I had to be a bit more hands on and more decisive with my mark making.
You can't just say, 'Oh I'll put that there and if I don't like it, I can delete it after.' But with acrylics, if you make mistakes you can just paint over it, so it wasn't entirely different.
It was quite difficult to adapt my art to a sculpture, though, because you have to imagine it from all angles and how it's going to look to people passing from any direction on the street. But it was a really fun challenge.
---
How would you describe The People's Friend cover artwork style?
It's quite traditional and realistic but with a dreamy watercolour feel, which makes it all quite charming. It's always an idyllic British scene on a nice sunny day. It's not always a landmark but landmarks gave this statue more focus.
In total, I worked on 'Oor Friend' for about 3 weeks – coming and going, doing a few hours of work on it every day and going back to office, juggling everything.
---
What does taking part in Oor Wullie's BIG Bucket Trail mean to you?
It means a lot to be helping the children. It makes you feel quite proud that your art is doing something meaningful and helping people. I'm proud to have contributed to a trail which is raising lots of money and awareness for children's hospital charities in Scotland.
For more information on Oor Wullie's BIG Bucket Trail, visit
www.oorwullie.com
And track down 'Oor Friend' here