Oor Wullie's BIG Bucket Trail – Discover 'Well Here We Are'
---
This fun-loving art trail has taken over the streets of Scotland, so we're getting inside the creative minds behind some of the most stunning sculptures! Here's a chat with Andy MacVicar the artist behind Tom Weir inspired Oor Wullie
Artist:
Andy MacVicar
Sponsor: Gillies

---
What inspired you to get involved with The Bucket trail? Have you been involved in any charitable art events before?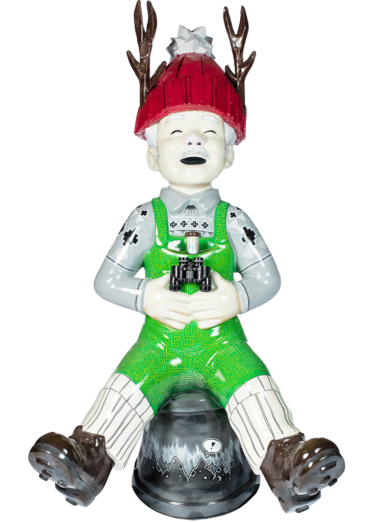 A friend in Dundee told me about the first Oor Wullie trail, and I knew the character as I loved comics growing up.
I lived in Dundee for several years when at art school and I thought the idea of raising money for charity through the placement of unique and colourful sculptures out on the street was brilliant.
Often these were going places where people would not necessarily expect to find a colourful sculpture so it seemed really positive on a number of levels. I was absolutely amazed by the public response to the first bucket trail when I went out for a wander around the trail, and just the positive energy people brought to the project themselves in their own way to fund raise, was probably the most inspiring part of the project for me.
When I heard they were doing a National BIG Bucket trail I was very much happy to be involved.
---
How much does it mean to you that your art is helping The ARCHIE Foundation?
It's humbling just to be a small part of making a real difference to the lives of young people through raising money with creativity. The artists are just one part of it obviously.
It is the support of businesses, sponsors, volunteers, fundraisers, bidders, and all of the people who put so much effort into making the BIG Bucket Trail happen, and supporting ARCHIE, that really makes the Bucket Trail what it is.
---
Why did you choose the Tom Weir design?
I was really inspired by some of the amazing walking journeys people made on the first trail and wanted to reference that as a starting point in some way.
When I thought about journeys in Scotland, and a National BIG Bucket trail to represent all aspects of the patchwork and the weave of Scottish Culture, I thought I'd love to salute perhaps one of Scotland's most famous and loved walking adventurer, Tom Weir.
I am a huge fan of Tom's 'Weir's Way' series. I used to watch the reruns in the early hours of the morning after getting home from work in bars when I was a student. This opened a door to a longing to further explore the peaks and glens of Scotland.
Weir's Way, very much ahead of its time in terms of overland travelogue of the outdoors, also serves as a fascinating anthropological time capsule of Scotland.
And it's 70 years since Tom Weir had his first articles published by DC Thomson, which I read in Cameron McNeish's article in The Scots Magazine. These factors combined led me to make a design referencing Tom Weir as I hope further generations will continue to celebrate Tom Weirs legacy and contribution to Scottish Culture.
---
What sort of art do you normally do?
I've been a sculptor for over a decade, mostly working in traditional casting & metals. So I'm used to working in the round and in large scale with form in Sculpture, but transporting a two dimensional concept design into three dimensions has its unique challenges, and at times involved some yoga like positions with a marker pen.
My newest project is www.lochnesssculpturestudio.com I have exhibited internationally and have work in private and public collections.
For more information on Oor Wullie's BIG Bucket Trail, visit
www.oorwullie.com
And track down ''Well Here We Are' here