Oor Wullie's BIG Bucket Trail – Discover 'Wullie's Technicolour Dream Dungarees!'
---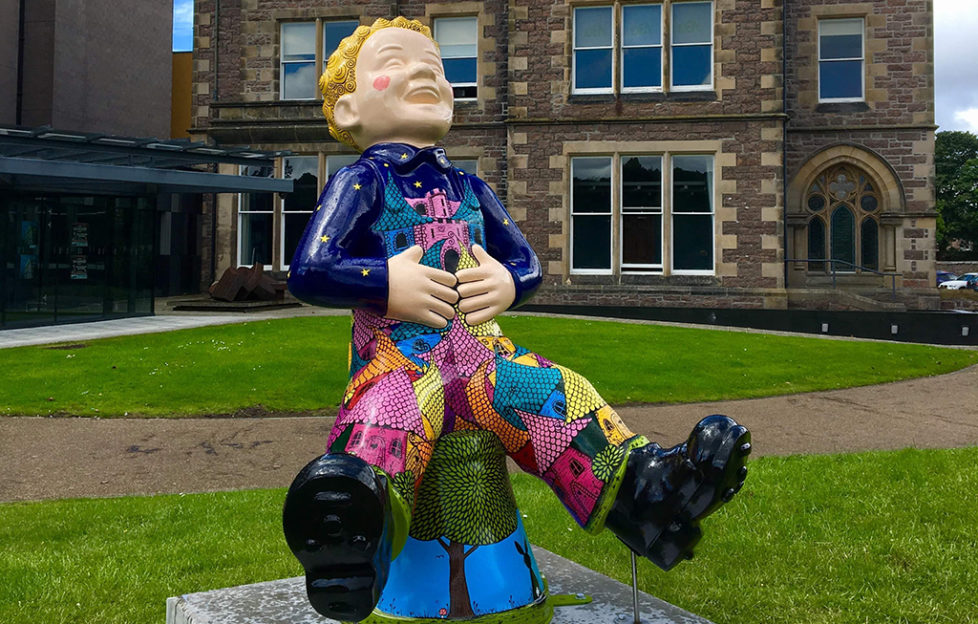 This fun-loving, charity art trail took to the streets of Scotland last week, so we're getting inside the creative minds behind some of the most stunning sculptures! We sit down for a chat with Art Director, Suzanne Scott
Location:
Inverness, Eden Court Theatre Cinema and Dundee, RRS Discovery 
---
How proud are you of this year's Oor Wullie's BIG Bucket Trail?
Every single one of our artists has done an incredible job. Oor boys are looking amazing!
I've been working as the Art Director on Oor Wullie's BIG Bucket Trail for The ARCHIE Foundation since November 2018. My post has evolved from organising all the artists and artwork on my own as artist co-ordinator on the first Bucket Trail in 2016 to now working as part of an art team.
We're really lucky to have some big names join us this year. Notably, Johanna Basford, the colouring book queen, has created a beautiful sculpture that steps straight out of the pages of one of her books. Adorned in flowers, with lovely little details, her sculpture will be very much loved in Aberdeen.
The Instagram sensation Mr Doodle came along and painted his sculpture for us in front of an audience at Dundee train station. Watching him create was absolutely mesmerising and didn't fail to bring smiles to all.
So it's been a real treat working with these fantastic (and very busy) artists. And it's a real honour that they said such a huge yes to supporting The ARCHIE Foundation by painting for us.
---
You must love your job?
A LOT! I feel so lucky to be a full time artist and illustrator doing what I love.
Next year, my website WhimSicAL LusH will be 10-years-old. And if I didn't enjoy it I think it would be incredibly hard to motivate myself to work every day as it can very long hours at times.
I love how varied it can be, especially when working on projects like Oor Wullie's BIG Bucket Trail for The ARCHIE Foundation. You know, one minute I'm painting my own sculptures and the next I can be helping organise other artists to paint theirs. Then another day I will be helping with photo shoots and sculptures being moved.
I particularly enjoy being part of bringing together artists, local business and the community together all for one cause.
---
What does it mean to you to have your art supporting charities? How does that feel?
If my work can make even the tiniest difference to someone's life it means so much to me.
Being able to create something that goes towards helping others is my way of trying to give a little back. Witnessing someone smile when they see my work is something very special. Then to not only do that but have that work translate into things like building the new twin operating theatres at Tayside Children's Hospital is just incredible.
So I feel honoured that I am able to help in this way.
---
How did you develop such a distinct art style and was it difficult to adapt to sculpture?
Oh my goodness, that's such a hard question. My early influences were Arthur Rackham, Tove Jansson (Moomins) and Quentin Blake. I absolutely love little details, intricate lines and illustrations that tell a story without the need for words. Their work all has those qualities and maybe it has rubbed off a bit on me too.
Therefore, I don't find it particularly tricky to adapt my illustrations for different surfaces. But, it's a great challenge to design work for specific projects, pieces and spaces.
However, what can be incredibly difficult is getting paintbrushes and pens into all the wee nooks and crannies – this often involves lying on the floor or painting upside down!
Painting over very lumpy bumpy surfaces, like Oor Wullie's hands, to retain a design that was initially 2D definitely pushes your skills. 
For more information on Oor Wullie's BIG Bucket Trail, visit
www.oorwullie.com
And track down 'Wullie's Technicolour Dream Dungarees' and 'Full O Beans'
NEXT read all about Illustrations Editor, Sarah Holliday's Oor Wullie for heritage magazine, The People's Friend here >>