Hikes and Hijinks
---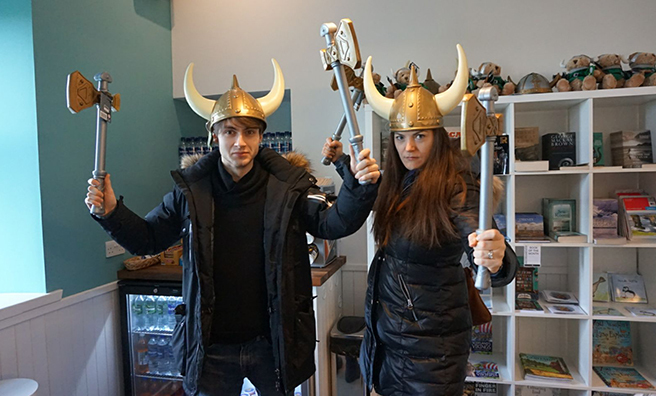 Musical director Patrick Milne reveals what the Opera Highlights team have been getting up to on tour
What a fabulous week!
Having commuted to the first three shows from Glasgow we're now in full on tour mode. This kind of intensity definitely helps to focus things, as well as giving us all more time to get to know each other and see some beautiful parts of Scotland.
We kicked off our Opera Highlights tour in the lovely town of Banchory, particularly picturesque when covered in snow on our first day, and eventually made it up north to Thurso in time for a dramatic coastal walk.
Perhaps most striking was our journey to Orkney. The sunshine over the cliffs and beautifully bright blue sea was beautiful at Dunnet Head, the most northerly point of mainland Britain.
Once on Orkney itself, we spent a day visiting amazing Neolithic structures. We saw the Ring of Brodgar just as the sun was setting over the sea, the chambered cairn Maeshowe, and the stone-built village of Skara Brae, roughly 5000 years old!
Particularly stunning was the 12th Century St Magnus Cathedral in Kirkwall, and the beautiful Italian Chapel built by prisoners of war during WW2.
There have been some shows too!
In the midst of all this we have of course been performing.
The three shows this week have all felt very different, from the lovely intimate village hall in Midmar to the much larger theatre in Orkney.
As music director, part of my job at each show, as well as playing the piano, is to rehearse with the singers beforehand, making notes from previous shows to keep the musical standards as high as possible, and to help them all adapt to each new acoustic, space, and balance level.
We also have our own piano which our brilliant technician Malcolm takes to each venue, keeping it in tune and in good shape at all times.
All the audiences have been extremely appreciative, and in Midmar we had a particularly exciting surprise visit to our show from Jeremy Corbyn and his wife!
Of course, when on tour a big part of the experience is spending time with each other and developing a great 'show-on-the-road' group dynamic.
We had a hilarious Valentine's Day secret Cupid gift exchange (some of which have already become tour mascots) and we're in the midst of planning a murder mystery for next week.
I've loved getting to know everyone: our brilliant Company Stage Manager Rob Coupe, his Assistant Stage Manager Alison Reid, and our Marketing Officer Claire Lowney, who have all been really lovely and made the whole thing run so smoothly and enjoyably.
Our four singers, Máire Flavin, Cath Backhouse, Will Morgan and Ben Lewis are all fantastic, so it's a joy to spend time and perform with them on such a clever and original show, brilliantly conceived and written by Jack Furness.
Special thanks to Tour Manager Caroline Campbell, who is so attentive and thoughtful in looking after us and taking care of our every need.
I can't wait to see what happens over the next three weeks!
Check back here next week for the latest backstage
blog from Scottish Opera's Opera Highlights
---
More!
For tour information
and more backstage blogs from the cast and crew,

click here

!