The Journey North
---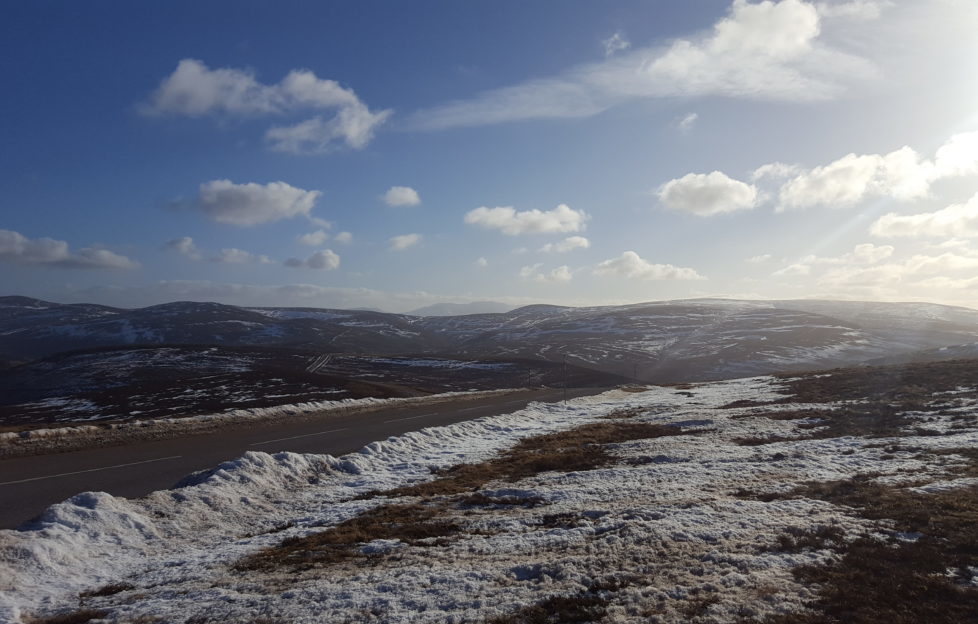 The view from the tour bus as the Opera Highlights team drove through the Cairngorms National Park
Scottish Opera's Opera Highlights tour have just finished the most northerly leg of their tour. Here, soprano Máire Flavin updates us on their backstage antics and site-seeing trips!
Week three of the Opera Highlights tour and we have passed the half way point! This also marked the longest time the cast and crew would be out on the road as we were away for two consecutive weeks without a trip back to Glasgow. It can be a lot of time together but with the stunning scenery and some fun activities we had planned, it was never dull!
We started the week with a welcome trip to Inverness from which we commuted to our first venue of the week – Tain.
It is great to get to stay in a bigger city like Inverness on these kinds of tours and it meant we had a larger variety of food options, not to mention a much-needed opportunity to get some laundry done!
It was my fourth time in Inverness with Scottish Opera and I have a soft spot for the city – I love a city on a river and always have the best of times there.
After our little city sojourn it was back to the stunning wilds of Scotland and an absolutely breath-taking drive through the Cairngorms to Braemar, where we were staying in log cabins for three nights.
We passed some gorgeous ski slopes and were all very tempted to rent some skis and give it a go, but we figured Caroline, our Tour Manager, would not be best pleased if anyone broke a leg! We settled for a few pictures of the mountains, then set off again in the bus.
All was not lost, however, as we had planned a special night together for our day off in the log cabins.
A Magical Murder Mystery Evening
In the very first hotel we stayed at on tour we noticed an advert for a murder mystery night and it gave us the idea of doing our own one on tour. Rob Coupe, our epic Stage Manager, downloaded a murder mystery app and we all chose our characters last week.
After much trawling through charity shops in all the towns and villages we visited, we found some little accessories to give our outfits a flavour of the theme – 1920s bootlegging Chicago!
Each cabin had an element to prepare – Catherine Backhouse and I were on starters so homemade hummus was made in our touring blender (which makes the 'blood' smoothie I drink every show on stage) and some guacamole to be eaten with carrots, corn chips and pitta.
The boys made chilli con carne and garlic bread and the 'admin' cabin made dessert – and hosted of course!
Armed with my necklace worn as a 1920s flapper accessory for my hair and with the knowledge that I was indeed the murderer, we all met in Rob's cabin, which he shared with Assistant Stage Manager Alison Reid and Marketing Officer Claire Lowney at 7pm for some on-the-road laughs.
It was brilliant fun and only one of the team guessed I was the murderer, so I take that as me winning. (I am not competitive at all!)
I am back in Glasgow now for a welcome two days off to get some serious work done for my next contract which starts the day after I finish the Opera Highlights tour!
A singer's life!
Check back here next week for the latest backstage
blog from Scottish Opera's Opera Highlights
---
More!
For tour information
and more backstage blogs from the cast and crew,

click here

!