Our August Issue 2016
---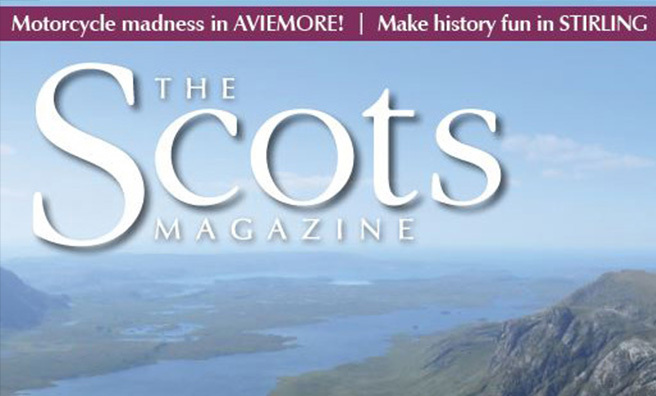 Inside The Scots Magazine this month…


Marvel in the views from the Fort William-Mallaig line with Keith Fergus.
Lose yourself in our nine-page Focus on the very best of Stirling.
Find out who on earth has started making Buckfast-flavour ice cream.
Explore the great wilderness of Fisherfield with Cameron McNeish.
Bike some of the country's finest forest trails with our On Your Bike guide.
…or Take A Hike up Mount Keen with Nick Drainey's alternative route.
Wakeboarding – the newest water sport taking Scotland by storm.
Protect our pollination, says Polly Pullar, and look after our bees.
Find the best events on this month in our Around Scotland pages.


"Best of the Fest" with Gayle Anderson's run-down of the Edinburgh Festival.
Top one-liners from the UK's best comics coming to this year's Fringe.
Spectacular imagery in Jim Crumley's Wild About Scotland.
You'll find the best in fact and fiction on our Scottish Bookshelf.
Chvrches and Fringe benefits feature on Lisa-Marie Ferla's music column.
Check out this season's best kit, tried and tested for our Great Gear Guide.
A bold new distillery project – the brothers behind Arbikie.
Coffee – Scotland's newest national drink?
Test your knowledge of Scotland with Q-Aye!


Alan Cumming speaks to us about his infamous dressing room parties…
Get behind the scenes with Aviemore's Thunder In The Glen.
Sailor Shirley Robertson is riding the wave of double-gold glory.
We chat to Ben Smith on his gruelling 401 marathon races
August is Carina Contini's favourite time of the year for recipes.
Introducing the top Scots in Team GB's Olympic hopes at Rio.
The tragic story of the "little king of the Gorbals", boxer Benny Lynch.
Discover a wee Scottish charity helping less-able garden lovers.

Your chance to win…
Two Wakeboarding passes with Foxlake Scotland.
Top picks from our Scottish Bookshelf.
A copy of the Scottish Independent Coffee Guide.
Weekend passes to the Blair Castle Horse Trials and Country Fare.
Out now!
Our August issue is in shops now, and available through subscription.
There are loads of ways to get it digitally to your smartphone or tablet, too; just visit the app store, get a digital subscription here or go to the Readly app store.