Our January Issue 2015
---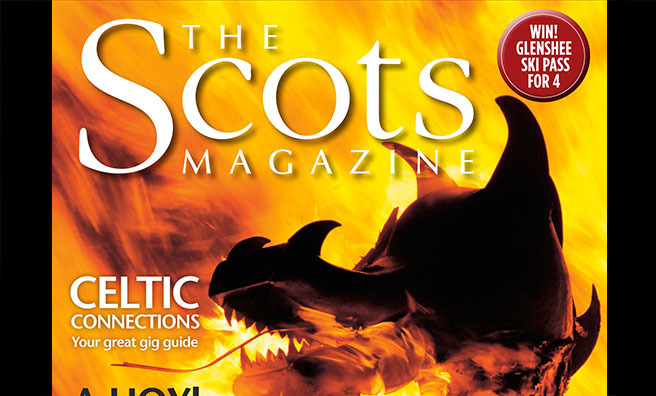 And we're into our 2016 issues already! How time does fly…
We have great plans for content this year, and our January issue gets us off to a cracking start with star interviews, a new gear guide, and all your favourite features of Scotland's past, present and future
People
Discover the softer side of on-screen baddie Peter Mullan in our star interview
Comedian Jo Caulfield talks to us of her love of Leith
Sir Chris Hoy swaps two wheels for four and settles into family life
Shetland fiddler, Chris Stout, speaks to us about Celtic Connections and why he's still involved after 11 years.
Looking back at the life of Fife-born ballerina Moira Shearer and her red shoes
Culinary seaweed guru Fiona Bird introduces us to the veggie alternative
Culture
Shetland's Winter fire festival Up Helly Aa is something to behold
The Edinburgh restaurant that breaks with tradition this Burns' night.
We speak to the duo behind Scottish Opera's latest production, The Devil Inside
Celtic Connections – here's the five gigs that are not to be missed!
Jim Crumley says we were once wildlife too in his incredible 100th nature feature for us
Euan Duguid gets ready for the Spirit of Speyside! WIN!
A Scottish voice in the abdication crisis of 1936
Places
The cold (and rather strange) tradition of the loony dook!
FOCUS ON: Edinburgh, and all that our capital has to offer WIN!
The legacy of our national bard lives on in the Mitchell Library
Polly Pullar focuses on conservation west of Loch Ness to save the red squirrel
Discover eco-friendly living – it's easier than you think
Cameron McNeish explores Scotland's Grahams and Donalds
The very best of what's on around Scotland in the coming month
Leisure
The pensioners who built a pub in their back garden!
Find the best of Scottish fact and fiction on our bookshelf
Take the Strathpeffer route with our On Your Bike feature … or walk around the Fife Coastal Path with Take A Hike
Check out the first in our series of Gear Guides – outdoor equipment put to the test
The glory of Glenshee's ski-runs in the sunshine WIN!
Keep warm indoors with Carina's food for the elements.
Out now!
Our January issue is in shops now, and it's also available through subscription.
There are loads of ways to get it digitally to your smartphone or tablet too; just visit the app store, get a digital subscription here or on the Readly app store.
Have a great Christmas and a Happy New Year from all the Scots Mag team.