Our May Issue 2016
---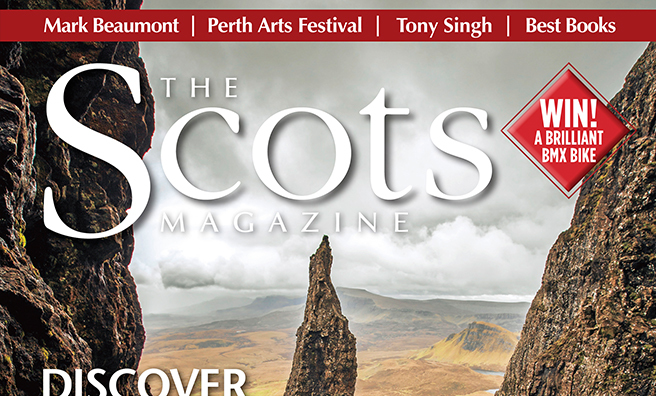 Check out the cracking line-up of content in our May issue…
People
We speak to impresario Sir Cameron Mackintosh
Meet Polly Puller and the men behind a fantastic new wildlife book
Analysing Rudolf Hess's wartime arrival
Cameron McNeish meets adventure stalwarts John and Marie Christine Ridgway
Mark Beaumont's cycling prowess precedes him, but he's not done yet
How teacher Pamela Butchart became a writing sensation
A one-to-one cookery lesson with TV chef Tony Singh
Leisure
The revitalising of traditional boat-building
Broadwood For BMX – Keith Fergus takes on the track
Get some outdoor tips from our Great Gear Guide
Find the best in fact and fiction on the Scottish Bookshelf
Whisky finds a place in many of Carina Contini's recipes
Euan Duguid hails the Scottish craft beer industry
Places
Wildlife, prehistory and luxury accommodation in our Focus on Skye
Get On Your Bike to Dunkeld with this route map and description
… or Take A Hike in the Cairngorms
How to furnish your home with quality without paying over the odds
Jim Crumley visits magical St Kilda for a closer look at the gannets
Five pages of events all Around Scotland
Culture
The legendary locomotive The Flying Scotsman is on tour
KT Tunstall and six other great acts get ready for Perth Festival
The Imaginate Festival is world-class for children
Lisa-Marie's music blog on David Duchovy's debut and May festivals
Music and malt make the perfect blend on Islay
Exploring Scotland's literary connections with Canada
Time to test your knowledge of Scotland in Q-Aye!
Competitions
Your chance to win a MuddyFox BMX bike and a 70cl bottle of 10-year-old Laphroaig
Out now!
Our May issue is in shops now, and available through subscription.
There are loads of ways to get it digitally to your smartphone or tablet, too; just visit the app store, get a digital subscription here or via the Readly app store.