Outlander Inspiration at Scot Lit Fest
---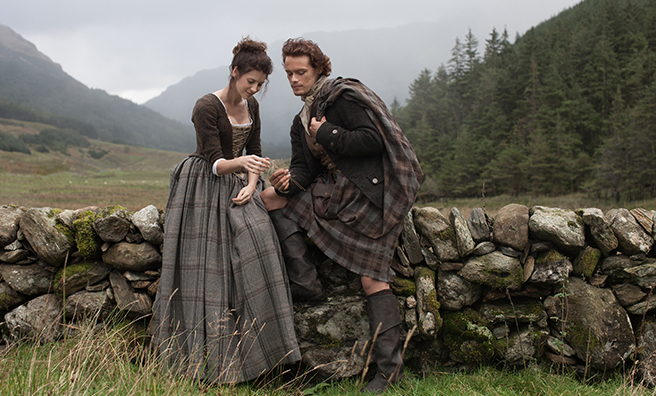 Sign up to our Weekly newsletter
Diana Gabaldon, author of the hit Outlander series, will join renowned authors Val McDermid, Michael Faber, A. L. Kennedy, Vic Galloway, Juno Dawson and Kirsty Logan for the Saltire Society's first ever virtual literary festival, which takes place online between June 24-26.
The inaugural Scot Lit Fest takes place as part of the Saltire Society's 80th anniversary celebrations, and will bring a host of the best and brightest authors straight to your desktop free of charge, wherever you are in the world.
"I'd like to encourage all fans of Scottish literature and culture to join us for what will be a spectacularly interesting weekend," said Jim Tough, Executive Director of the Saltire Society.
Diana Gabaldon will lead a conversation
Diana Gabaldon will take part in a Twitter chat on Friday, June 24 at 4pm BST. Diana will lead a conversation about how Scotland has influenced her bestselling Outlander series, why she chose Scotland as a setting for the series and what the country means to her. The discussion can be followed via Diana's own Twitter account (@Writer_DG) and will give participants an opportunity to ask their own questions directly to the author.
Val McDermid and the voice behind Orkney Library's Twitter account
Val McDermid will join an online discussion about the importance of supporting local libraries, chaired by the Chartered Institute of Library and Information Professionals (CILIP) and representatives of a number of Scotland's libraries including Stewart Bain, the voice behind Orkney Library's very popular Twitter account.
Other authors taking part in the digital weekend event are Amy Liptrot, author of The Outrun, who will be joined by Malachy Tallack and Kevin MacNeil for a Twitter discussion about Scotland's islands and their influence on modern literature.
Some of Scotland's best crime authors
Sara Sheridan will be taking part in the Collaborative Crime Creation with Louise Welsh, Alex Gray, Neil Broadfoot, Michael J Malone, Mark Leggatt and more. This will see some of Scotland's best crime authors creating an original piece of crime fiction on Twitter based on the public's suggestions.
Poets Claire Askew and Theresa Munoz will join Saltire Poetry Book of the Year 2015 winner Ryan Van Winkle to discuss their respective work and the experience of being a modern poet. #feminisminYA creator and host Mariam Khan will chair a Twitter chat between top Young Adult authors Non Pratt and Kirkland Ciccone.
Emerging new Scottish writing talents
Meanwhile, on June 26, there will be a special showcase of emerging new Scottish writing talents, Helen Sedgwick and Mary Paulson-Ellis. Finally, Angus Peter Campbell, Tim Armstrong, Alison Lang and Peter MacKay will contribute to the dedicated Gaelic strand of the festival, #fèislitalba.
There will also be an online screening of the documentary William McIlvanney: Living With Words, which was filmed in early 2015.
ScotLitFest is supported by Creative Scotland and tickets for the festival are available here for free. 
Sign up to our Weekly newsletter