Perth's Rory Skinner Wins Backing For Moto3 Campaign
---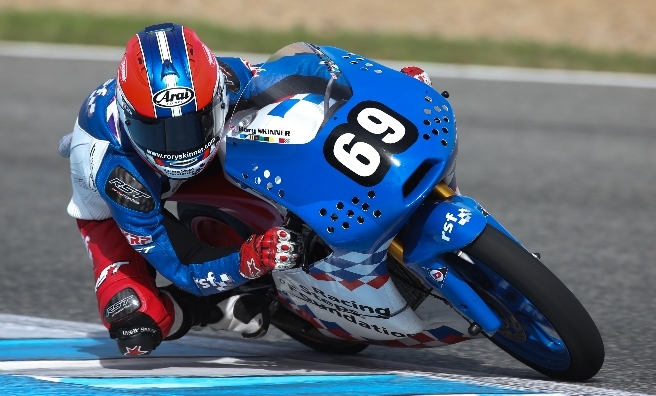 Rory Skinner's on the right track to success! Photo courtesy of Racing Steps Foundation
Thanks to continued backing from the Racing Steps Foundation, rising Scottish motorcycle racing star Rory Skinner will return to the FIM (International Motorcycling Federation) Moto3 Junior World Championship in 2016.
14-year-old Rory will again ride with the Racing Steps Foundation's (RSF) partner team KRP, run by former racer turned team boss Mark Keen, and joins fellow Scot and FIM Moto3 World Championship front-runner John McPhee in RSF's 2016 two-rider line-up.
A top-five finish at Valencia
Although too young to race in the first seven races of the 12-round 2015 championship, Rory ended the 2015 season in 19th place after sealing a top-five finish in the finale at Valencia in November. Rory also rounded off his rookie year in international competition with seventh place in Spain's national RFME (Royal Spanish Motorcycling Federation) Moto 3 Championship.
In parallel with his 2015 RSF racing programme, the 12-times junior national champion also competed in the Red Bull MotoGP Rookies Cup, ending the 13-race international series in 11th with two pole positions and two podium finishes to his credit.
Expectations are high
"Rory is thoroughly deserving of the RSF's continued support," said RSF motorcycle racing co-ordinator Peter Ball.
"Racing on the continent for the first time is a really tough undertaking for British riders. So for Rory to acclimatise so well to the fast, wide and flowing circuits in Spain in such a short space of time, and to give as good as he got racing against much older and more experienced riders, was no mean achievement.
"On the basis of what he's achieved this year, both his and RSF's expectations are high heading into 2016."
Now invited back to compete in next year's Red Bull MotoGP Rookies Cup, Rory will also race a 250cc KRP-engineered FTR-KTM bike in the 12-race Moto3 Junior World Championship.
Rory's RSF-backed 2016 campaign kicks off on April 17 at Valencia while his Red Bull MotoGP Rookies Cup season gets under way at Jerez at the end of March – and the Scots Mag team will be cheering him on!
---
Racing Steps Foundation
Racing Steps Foundation is a private, not-for-profit fund that provides backing for British racing drivers and motorcycle racers with the talent and determination required to climb to the top of the international motorsports ladder but who have neither the funds nor the mentoring and management needed to get there.
---
Rory's Moto3 Race Bike
The KRP FTR-KTM Moto3 250cc, single-cylinder, four-stroke prototype that Rory Skinner will race in 2016 has a top speed of 149mph (dependent on circuit and gearing) and can accelerate from  0-102.5 mph in 8.3s. Front and rear disk brakes enable the bikes to decelerate from 62-0mph in less than four seconds.