On the Pilgrims' Trail
---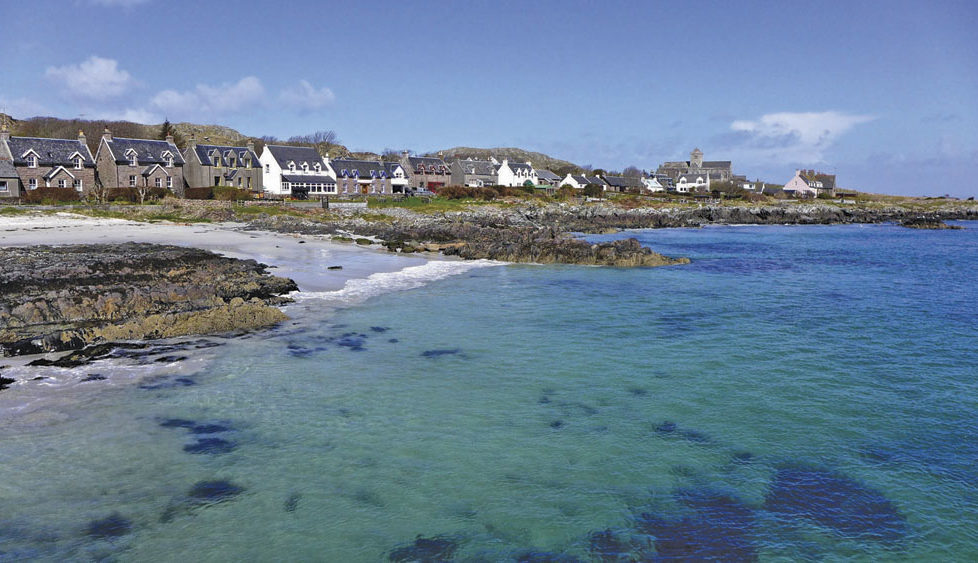 Home At Last
Scotland's top outdoors writer Cameron McNeish takes the Pilgrims' Trail from Iona to Portmahomack
It might seem an obvious question, but what exactly is a pilgrimage?
It's been described as a journey or search for moral or spiritual significance, in many cases a journey to a location of some importance to the person making the pilgrimage.
When BBC Scotland asked me to walk a Pilgrims' Trail in Scotland for our annual Christmas TV programme I wasn't sure where to begin. But my producers at Triple Echo Productions came up with a cracker of a route, which began on the Isle of Iona, a centre of Irish monasticism for 400 years and the island from where St Columba, or Columcille, set forth to bring Christianity to the Picts of Alba.
I wanted to take the opportunity to challenge my own perceptions about wild land at a time when so many people are suggesting that Scotland is being industrialised beyond repair.
A pilgrimage should end at a location of some importance and relevance to the entire route. When my producers suggested Portmahomack, I looked at them curiously. Portmahomack? Since the mid-1990s archeologists have made some exciting finds in and around the grounds of the old Portmahomack Parish Church. They are now convinced that the present church stands on the site of the only Pictish monastic settlement ever found in Scotland.
Travelling Coast-to-coast
We designed our pilgrimage route as much to offer an exceptional walk as anything else. We followed what turned out to be a highly original coast-to-coast route.
"The Highlands still have the ability to make you feel small and insignificant."
Over the next week or so we faced more and more evidence of Scotland's widespread hydro-electric industry. We crossed from Glen Affric, via Toll Creagach, to the big dam at the head of Loch Mullardoch. Here I met up with fiddler Duncan Chisholm who has released a trio of albums. They share names with three of the glens we had visited, Affric, Cannich and Strathfarrar – the Strathglass Trilogy. What we didn't know until we met up with Duncan was that his father had worked on the Mullardoch dam, part of the Affric-Beauly hydro-electric power scheme.
"My father was born in Glen Cannich at Cosac Lodge which ended up submerged in water when Mullardoch was dammed in 1951," he told me. "Loch Lungard and Loch Mullardoch became one loch then when their height was raised by about 100 feet, leaving a very dark and very dangerous stretch of water. In fact my great-grandmother, who had spent all of her life in either Glen Affric or Glen Cannich, was so appalled by what had happened to her home she just couldn't bear to visit Mullardoch again after 1951, until her death in 1967."
Across Wild Land
From Glen Morie various byways took me to lovely Strath Ruisdale and Strath Rory. Then, quiet roads led me east towards the Tarbat Peninsula and Portmahomack.
On the final miles to the lighthouse at Tarbat Ness I pondered on the trails I had followed from Iona. How many people trod them before me – saints, monks, soldiers, Jacobites, princes and cattle drovers ? And in more recent times the miners, the hydro and forestry workers, crofters and farmers and the hikers and backpackers of today.
Few of these tracks and trails wound through truly wild land. Yet I had little doubt that the mountaintops we crossed fell into that landscape category, although all of them had footpaths running to the summits.
But wild land or not, and despite the industrial heritage to be found all across my route, the Highlands still have the ability to make you feel small and insignificant, that you are the only person in a vast, uncompromising landscape, reminding me again of its precious qualities for renewal and hope, and of its immense natural beauty.
Qualities I'm sure even Columcille would have been proud of.
Images of The Pilgrims' Trail:
---
Fascinating Facts
The Pilgrims' Train runs for 250 miles.
Starting in Iona in the west, it runs to Easter Ross.
Find many kings of ancient Scotland buried at Iona Abbey.
You can find King Macbeth's tombstone there.
And so is late Labour leader John Smith.