Pitlochry – Not Just A Pitstop
---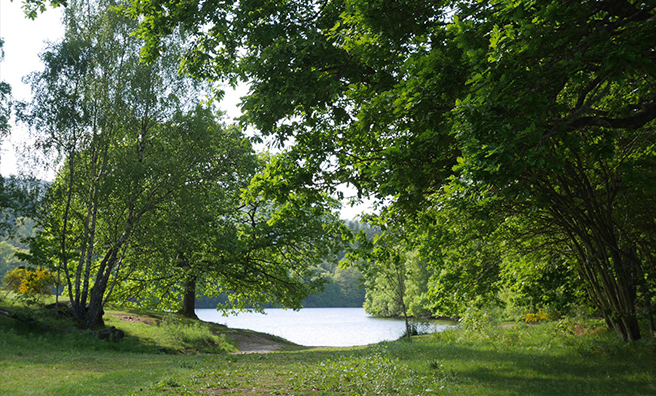 Pitlochry is a town that I always seemed to stop in on the way to somewhere, but this wee gem of Perthshire deserves to be a destination in its own right
In my last stop, I spent two good days strolling through the lively streets of Pitlochry, munching Hettie's tearoom cakes, hiking some of its wee hills, sampling delicious whisky and watching some theatre. Sound like a plan, right? Here are the reasons why you should stay – not just stop – in this quaint corner of Perthshire…
A theatre break in the Highlands
Pitlochry's Festival Theatre has some clever planning. So clever that if you stay in town for a few days you could manage to watch several different plays, thanks to their daily rotation and dedicated cast. The setting of the venue could not be more idyllic, either – by the banks of the River Tummel and with views of the dam. And if you fancy a wander before the play of the night, check out the Explorers Garden next door, a wonderful, lush garden celebrations Scotland's botanists and plant collectors through the years.
Hiking at its best
Pitlochry is very close to some of the most iconic natural places in Perthshire.
At the back of the town, Ben Vrackie invites hiking lovers like me to venture into moorland and peaks looking for some seriously spectacular views.
Not far away, there's the iconic peak of Schiehallion, and closer there are simpler paths that will take you to historic Killiecrankie, give you a tour of Loch Faskally or even into the depths of the Black Spout woods, where a gorgeous waterfall awaits. In fact, the walk to this woods will also allow you to see the ruins of the Black Castle and venture into the lovely streets of historic Moulin.
Drink, shop and eat til you drop
Despite its small size, Pitlochry still has lots of places to eat great food, drink great whiskys and shop for all the souvenirs you want.
On top of walking and cultural trips to the theatre, on my wee weekend I also found the time to eat, drink and shop as much as I wanted.
To start with, Pitlochry has two whisky distilleries, Blair Atholl and Edradour. The last one is one of the smallest in Scotland, still distilling whisky using only manual processes. I did enjoy the visit but I enjoyed the two drams of whisky more! Their whisky cream is delicious, too. Blair Athol's distillery is a bit closer to the town centre, and it's also bigger. It's a really good experience and, if you have the time and love Scotland's national drink, I'd really recommended hitting both of them.
As for food, I have quite a sweet tooth, and Hettie's Tearoom had everything I needed after all that walking! Super tasty carrot cake, tea and great local service to nourish the body as well as the soul.
And there's nothing better in my opinion than to wander into some of the independent local shops after some comfort food. Highland Soap, Heathergems or Honest Thistle are perfect venues to round off a great weekend.
What are your favourite haunts in Pitlochry? Comment below, or let us know on Twitter!