Pop-up Opera 2019 – One Last Hurrah!
---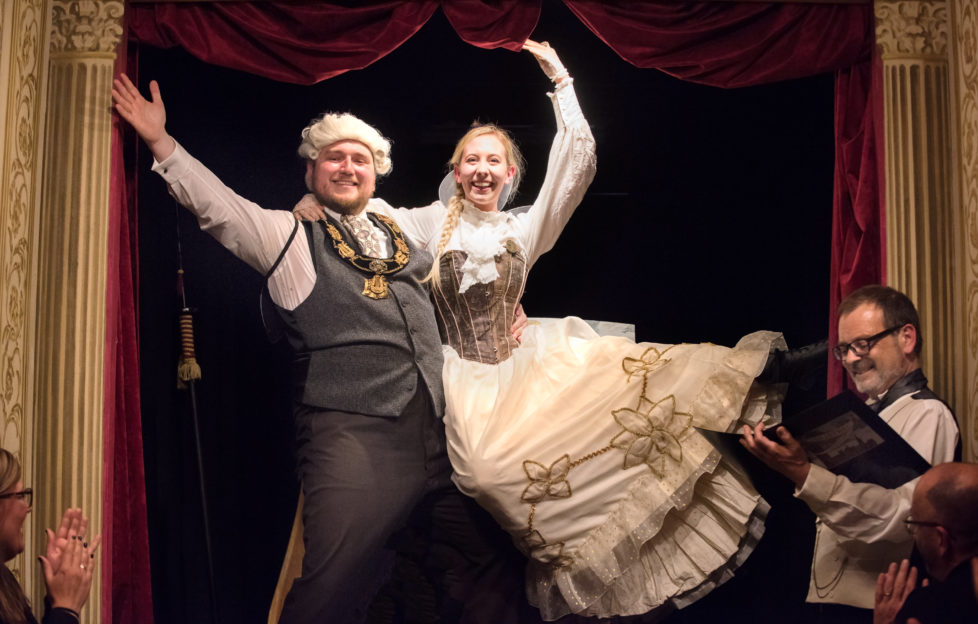 A Little Bit of Iolanthe │Gilbert & Sullivan arr. Derek Clark Supported by The D'Oyly Carte Charitable Trust Iolanthe is banished by the Fairy Queen for marrying a mortal. Now, 25 years later, two worlds again collide when her son announces he's in love. Unfortunately, his beloved is a popular girl and he has some serious competition… Light-hearted satire at its best, Iolanthe is full of fun. A Little Bit of The Magic Flute │Mozart arr. Derek Clark │Translation Kit Hesketh-Harvey
Tour Dates
June 5-6 - Gavinburn Primary School, Old Kilpatrick
June 7 - Cowan Park, Barrhead
June 8 - Rouken Glen Park, Giffnock
June 12-14 - Borders Book Festival, Melrose
June 15-16 - Archerfield Walled Garden, North Berwick
June 22 - McLaren Leisure Centre, Callander
June 23 - Fluthers Car Park, Cupar
June 25 - Banff Primary School, Banff
June 27 - Aboyne & Deeside Festival, Aboyne
June 29 - Haddington Show, East Fortune
July 20 - Scottish Canal Festival, Glasgow
Credit: Pop-up Opera will be on the road until 21 July 2019. For full details and tickets, go to the Scottish Opera website.
Pop-up Opera 2019 has hit the road again with three new sing-tastic shows! Keep up with the cast in this new series of behind-the-scenes blogs. The fifth and final diary entry comes from harpist Sharron Griffiths and accordionist Lizy Stirrat
The final week of the Pop-up Opera 2019 tour is upon us and what a varied and wonderful project this has been! My first Pop-up Opera tour was nine years ago, and the power of this project never fails to humble me. Since then, it has been one of the most rewarding and enjoyable jobs that I have been privileged to be part of.
The majority of my work as a harpist involves sitting at the back of an orchestra, therefore I seldom get the opportunity to communicate with the audience apart from through the power of the music. As someone, who I am sure my very patient colleagues would agree, 'loves a good chit chat', having the ability to meet people from all ages and walks of life to discuss how the harp works and what being a harpist entails is invaluable, not just to the Pop-up audience, but also to me.
Being a harpist is a not always easy
People are always enchanted by being in the presence of a pedal harp, as not only is it a beautiful piece of furniture but it seems to have a magical power with its soothing sound. During our recent trip to Kilbryde Hospice in East Kilbride a gentleman called Harry was so excited to see the harp for the first time that he had to be given a special seat in order for him to get a full view of my playing and I even let him have a go, which made his day!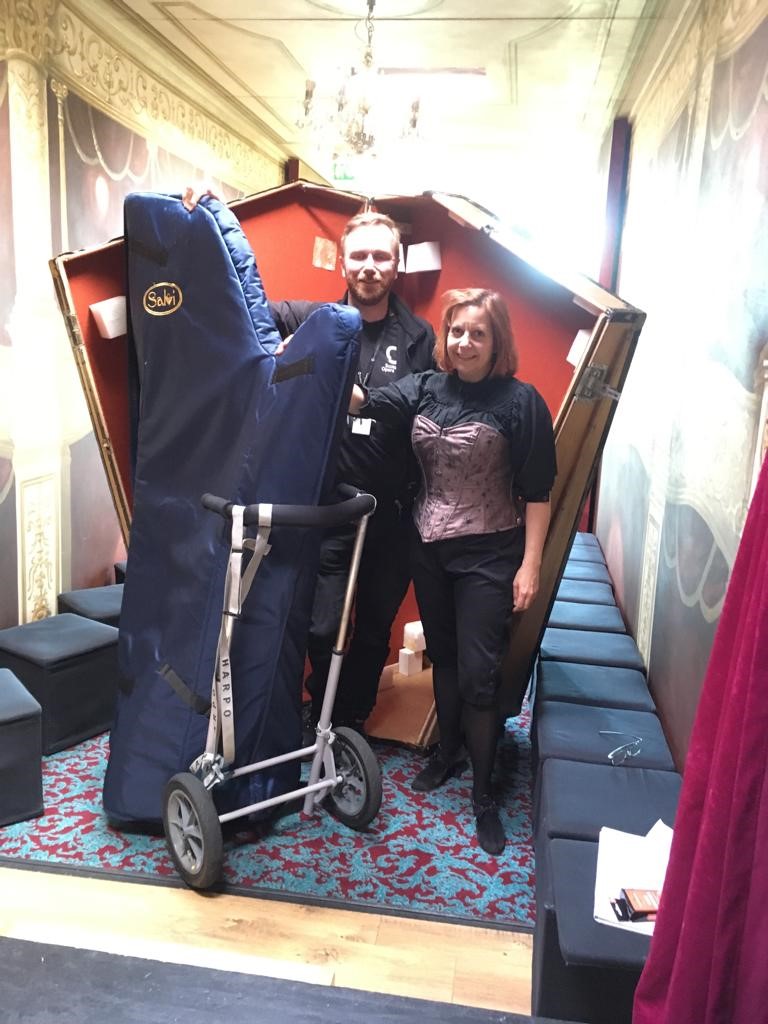 Being a harpist is a not always easy. Not only do you have to be able to play the instrument, but you also have to tune all 47 strings every time you play it, be strong enough to carry it around and have a car big enough to fit it in (which is very disappointing given that my hobby is fast cars, hey ho!).
Normally I transport my harp around myself, but on this tour we have kindly been lent a harp flight case from the Royal Conservatoire of Scotland so I can now entrust my harp to the capable hands of Stage Manager Robbie Fraser and it can travel in the back of the trailer.
'Nigel' (as the harp has been nicknamed) can be very temperamental and is affected by changes of temperature so a lot of my time is spent tuning and warming my fingers up. The harp not only has 47 strings but also seven pedals, one for every note of the scale, with three notches to alter the pitch of the string from flat, to natural to sharp.
Scottish Opera Head of Music Derek Clark's genius orchestral reductions of both A Little Bit of The Magic Flute and A Little Bit of Iolanthe to a mere flute and harp are quite challenging as not only do I have to be nimble with my fingers but also with my feet. One song in Iolanthe alone has 78 pedal changes in it!
Teeny Tiny Hecklers
So to this week on the road, we began with a sunny trip to Callander Primary School to play for all the age groups who, after a bit of trepidation, sat attentively through the three performances. It was lovely to be out of the trailer for a day and for flautist Laura, accordionist Lizy and myself, the ability to interact more with the audience and luxuriate in the ample performance space and acoustic of the gym hall was fantastic!
The next day, our trailer roadshow headed up the road to the McLaren Leisure Centre, Callander. Here we discovered a new young audience, two of whom during the performance silently crept nearer and nearer to the stage, ending up almost under narrator Ross' nose. Ross being the ultimate professional kept his cool and carried on regardless, even given that one of our wee fans tried her best to put him off by sticking her tongue out at him!
Sad Goodbyes
Sunday began with a very early morning start for the journey to Cupar Arts EDEN in Fife. Here our trailer was placed in full view of all cars passing from the main road by our very own Michael Schumacher of truck drivers, Keith. We had very responsive audiences, including my alternate harpist Gwen, who has also been performing on the Pop-up Tour, and her family who arrived laden with doughnuts for us all which was very welcome sight.
This was the wonderful soprano, Jessica Leary's last performance with Pop-up Opera 2019. We were very sad to say goodbye to her, but also happy to no longer have the daily hunt for an iced latte to fuel her addiction!
Monday we awoke in Dundee to a complete downpour. Company Manager extraordinaire, Ali Biggs, took the wheel and drove us all safely, singing and sucking mint imperials, up the long and winding roads to Banff. Here we had a night off and enjoyed a wonderful company dinner at the Banff Springs Hotel, with an amazing view of the choppy sea.
Our first performance in Banff was somewhat delayed due to a technical problem with Lizy's accordion. When travelling with such cumbersome yet delicate instruments, it is sometimes inevitable that problems arise. But the show must go on and Ali and Laura geared up the audience outside with renditions of the audience participation song from Puffy McPuffer and the Crabbit Canals and the hokey pokey.
The show started with Laura covering the two instrumental parts to her best ability on her own. Our ever-unfazed stage manager, Robbie, whisked Lizy and the accordion off to Aberdeen to a specialist.
Here we have a cameo blog appearance from Lizy to fill you in on the events that unfolded:
Every musician's worst nightmare is having either their music go missing before a performance, or an instrument malfunction. Today I lived this nightmare, with the realisation hitting me with just a minute to spare before the first show of Puffy McPuffer and the Crabbit Canals.
The bass buttons on the left hand side of my accordion had become jammed which made the accordion sound like someone strapped it to the back of a wedding car going 70 down the motorway.
Fight or flight mode had kicked in, with no idea how to fix the problem and Robbie passing me a selection of screw drivers, it felt like only option was to run. Thankfully the whole team pulled together to help. I got in touch with a gentleman in Aberdeen and Robbie and I headed off, road trip-style to get my precious instrument into surgery.
The only thing I found useful to settle my anxieties was a packet of Mini Cheddars, a Baby Bell and a seriously dry breakfast biscuit.
We arrived in Aberdeen and met Charlie, our accordion surgeon. We whisked her on to the operating table and hoped for a miracle. It was a tense 3 hours and she unfortunately didn't make a full recovery.
Accordions are very complex, delicate instruments. Repairing one requires patience, attention to detail and a great deal of process of elimination. There weren't enough hours in the day to get her fixed up. Charlie very kindly let me borrow one of his beautiful accordions, a vintage Hohner. I think this accordion looks particularly Art Deco, with a bit of an 80's ‪RUN DMC edge. Isn't it wonderful?
Things like this can happen on tour and they can be stressful, but what makes it easier is a strong team that can problem solve quickly. It was an eventful and tense day; however, the show went on without me. My accordion won't be injured forever, and Robbie took me for a McDonald's on the way back to Banff. Every cloud.  Thanks for reading. Lizy
A final note to mention and send thanks from all the team to the unsung heroes of our tour, Company Manager, Ali Biggs and Stage Manager, Robbie Fraser. Without these two people, our jobs would be impossible.
Nothing is too much trouble for them from sewing up ripped costumes; converting harp boxes; being the calm in the face of adversity; making sure we know where the nearest restaurant is; and delivering us to the stage on time amongst so many other things, but really just for being possibly the nicest, most accommodating all round brilliant people who we would be lost without.
So a farewell from a wonderful supportive team Pop-up Opera 2019, it has been a lot of fun and thank you to all our fantastic audiences from all around Scotland! And thank you from all of us for reading our blogs and following along with our adventures.
Pop-up Opera will be on the road until 21 July 2019.
For full details and ticket bookings, go to the Scottish Opera website.
Read Baritone, Aidan Edwards's blog from last week here>>