Pop-up Opera 2019 – A Very Special Performance
---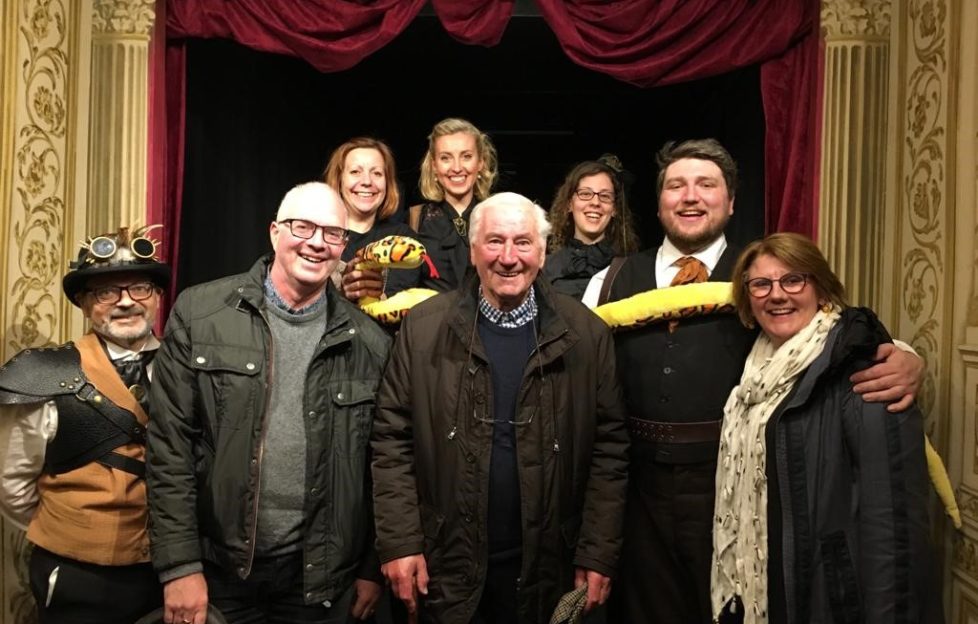 Tour Dates
June 5-6 - Gavinburn Primary School, Old Kilpatrick
June 7 - Cowan Park, Barrhead
June 8 - Rouken Glen Park, Giffnock
June 12-14 - Borders Book Festival, Melrose
June 15-16 - Archerfield Walled Garden, North Berwick
June 22 - McLaren Leisure Centre, Callander
June 23 - Fluthers Car Park, Cupar
June 25 - Banff Primary School, Banff
June 27 - Aboyne & Deeside Festival, Aboyne
June 29 - Haddington Show, East Fortune
July 20 - Scottish Canal Festival, Glasgow
Credit: Pop-up Opera will be on the road until 21 July 2019. For full details and tickets, go to the Scottish Opera website.
Pop-up Opera 2019 has hit the road again with three new sing-tastic shows! Keep up with the cast in this new series of behind-the-scenes blogs. The fourth diary entry comes from Baritone, Aidan Edwards
WEEK FOUR of the Pop-up Opera 2019 tour began at the Borders Book Festival in Melrose. Literary enthusiasts such as authors, commentators, comedians and many more descended on the idyllic Harmony Gardens.
However, the weather had not been kind. The UK endured nearly three days of constant rain, so when we arrived in Melrose the village was awash with anoraks and umbrellas. Still, attendees were  asking if they could pop in and have a look at our road-ready theatre!
The rain hadn't dampened anyone's spirits and as a reward the clouds finally lifted for our first performance of A Little Bit of Iolanthe. The show was a huge success with our literary-minded audience, many of whom enjoyed the wonderful word play and double meanings which are rife in Gilbert and Sullivan's opera.
Sharp-eyed Sharron, our harpist, spotted the halloumi fries stand just beyond our trailer. Our motivation through the second performance of Iolanthe then became to reward ourselves with those halloumi fries.
However, Stage Manager and all round 'good egg' Ali Biggs made a startling admission when she confided she didn't actually like halloumi – 'Cue shock and horror from the honourable peers!'
The day was particularly special for yours truly as I had been accompanied by my parents and grandfather – all the way from Halifax, via Darlington. They were very keen to check out the festival and watch their son perform, or so they assured me! It was wonderful to have them and they were even treated to an exclusive picture with the cast in the theatre.
Fairy Surprise
Day two in Melrose started out just as wet but quickly changed as the evening sunset bathed the festival in a yellow light, which made for a delightful evening sitting outside and enjoying the fare.
On day three, we were up and out early enough for our Stage Manager extraordinaire, Robbie Fraser, to outdo his own efficiency by arriving at exactly 8.59am for our arranged 9am meet! Bags packed, we travelled on to our next venue, the Archerfield Walled Garden in East Lothian.
This was a lovely setting with a farm shop and cafe as well as beautifully maintained gardens. We were given a warm welcome by the folks at the Walled Garden who even provided a very apt sign on a bike to point people in the right direction!
We separated our A Little Bit of Iolanthe double bill by presenting our stage crew with their very own fairy wings! As everyone else involved in the production of Iolanthe is equipped with their own wings we thought it would be very apt and just as Iolanthe would want that 'everyone is now a fairy'.
A Special Performance
Our final day at the Walled Garden was by far the warmest and sunniest of our four days away and we were met by some lovely audiences, many of whom had never been to an opera and were insistent that they would seek it out again.
The highlight of the day was meeting a young boy who came to see both A Little Bit of Iolanthe and A Little Bit of The Magic Flute. His mother had to practically pull him away as he was so enamoured by the production, the trailer and the cast. His final parting words were that he now wanted to become an opera singer himself!
This was the most rewarding day so far as we visited the Kilbryde Hospice in East Kilbride. We performed in the café to audiences made up of staff, carers and residents of the hospice, as well as their friends and families. Our reception was extremely warm and we received a rapturous applause from our evening performance of A Little Bit of The Magic Flute.
Between performances we had the opportunity to visit residents who were unable to join us in the café. It was a pleasure to meet everyone and we had the joy of treating them to some private performances. Jessica, Sharron, Laura and I had prepared a couple of pieces from opera and musical theatre but there was room to improvise too.
No sooner had one particular family revealed that their mother was a huge fan of Simon and Garfunkel than harpist supremo Sharron whipped out a rendition of Bridge Over Troubled Water which family and performers alike were able to sing along with. There wasn't a dry eye in the room.
This week has been a brilliant leg of the tour, ended on a humbling note. With two weeks to go it has been a beautiful reminder of why we are all involved in music and the power it can have to bring joy.
Pop-up Opera will be on the road until 21 July 2019.
For full details and ticket bookings, go to the Scottish Opera website.
Read storyteller, Ross Stenhouse's blog from last week here>>