Pop-up Opera 2019 – A Little Bit Of Song
---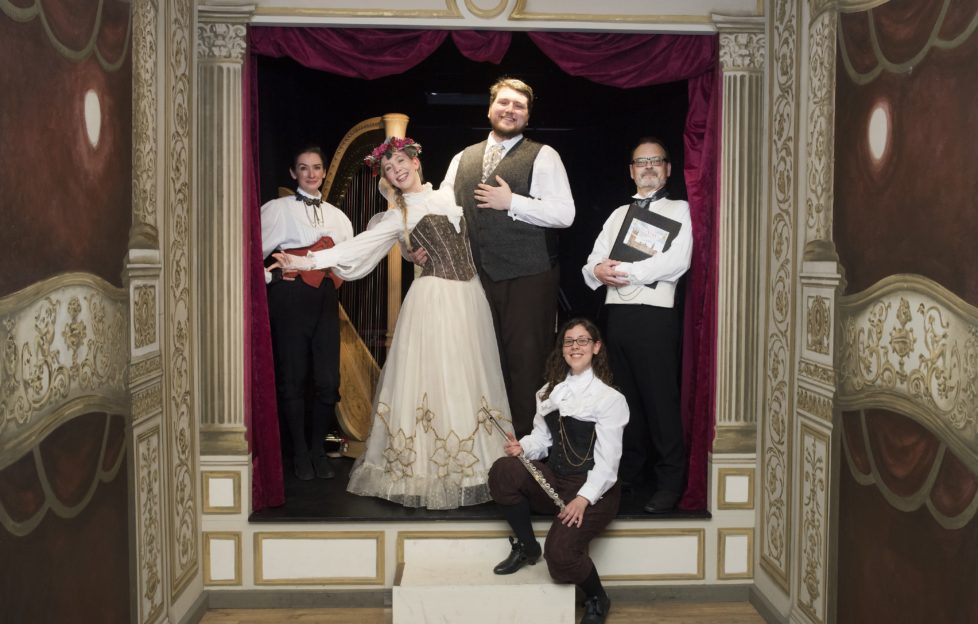 Gwen Yorke Sinclair, Charlotte Hoather, Aidan Edwards, Laura Cioffi and Ross Stenhouse in A Little Bit of Iolanthe. Scottish Opera 2019. Credit Julie Howden
Tour Dates
June 5-6 - Gavinburn Primary School, Old Kilpatrick
June 7 - Cowan Park, Barrhead
June 8 - Rouken Glen Park, Giffnock
June 12-14 - Borders Book Festival, Melrose
June 15-16 - Archerfield Walled Garden, North Berwick
June 22 - McLaren Leisure Centre, Callander
June 23 - Fluthers Car Park, Cupar
June 25 - Banff Primary School, Banff
June 27 - Aboyne & Deeside Festival, Aboyne
June 29 - Haddington Show, East Fortune
July 20 - Scottish Canal Festival, Glasgow
Credit: Pop-up Opera will be on the road until 21 July 2019. For full details and tickets, go to the Scottish Opera website.
Pop-up Opera 2019 hit the road again last weekend with three new sing-tastic shows! Keep up with the cast in this new series of behind-the-scenes blogs. The first diary entry comes from soprano, Charlotte Hoather
Scottish Opera present to you three 30-minute performances of specially arranged operas, with selected top hits, arias, duets, and ensemble numbers arranged for a small chamber music ensemble.
This year we'll be performing 'A Little Bit of The Magic Flute', 'A Little Bit of Iolanthe' and 'Puffy McPuffer and the Crabbit Canals', which is specially written for children aged 5-8.
What Makes Pop-up Opera So Special?
We perform in a specially converted, fully accessible trailer that's been fitted with a raised stage at the back. There are windows for natural light whilst rehearsing and black out blinds for during the performances.
There are spotlights and the chandelier to adds a touch of elegance. The inside matches the auditorium of the Theatre Royal, Scottish Opera's home in Glasgow, right down to the carpet. The intimacy of the trailer allows the performers a special connection with the audience, which really brings these productions to life.
The Pop-up Opera tour began last week. Our first performances were in a fabulous care home in Glasgow. We had over 40 residents come to watch our first shows, and some children also came along with their carers from a local nursery.
Rave Reviews
It was fantastic speaking to the residents after the shows, which they seemed to enjoy very much indeed. One lady told me that she had seen all of Gilbert and Sullivan's operas, with the exception of 'Iolanthe', and was delighted that she was to be able to watch a little bit of it with us. She's now ticked it off her bucket list!
The children brilliantly paid attention during 'A Little Bit of The Magic Flute'. It always delights me how engaged they are with the productions that it's been my pleasure to be a part of. These productions really do have something for everyone.
As for the past week, we have been in Perth which is on the banks of the beautiful River Tay. I love the city's history as a centre for trade and a Royal residence. And it still looks like a picturesque playground for Kings and Queens.
Therefore, we spent our spare time in between performances taking in the beauty of the surrounding countryside, and learning more about the history of the region.
For reference, our chamber ensemble consists of a soprano, (I share the role with the delightful Jessica Leary), baritone (Aidan Edwards), flute (Laura Cioffi), harp (Gwen Yorke Sinclair & Sharron Griffiths) and, for our children's show, accordion (Lizy Stirrat), with Ross Stenhouse as the storyteller binding them together with his own inimitable style.
Pop-up Opera will be on the road until 21 July 2019.
For full details and ticket bookings, go to the Scottish Opera website.