Power up The Ideas Factory At Edinburgh International Science Festival
---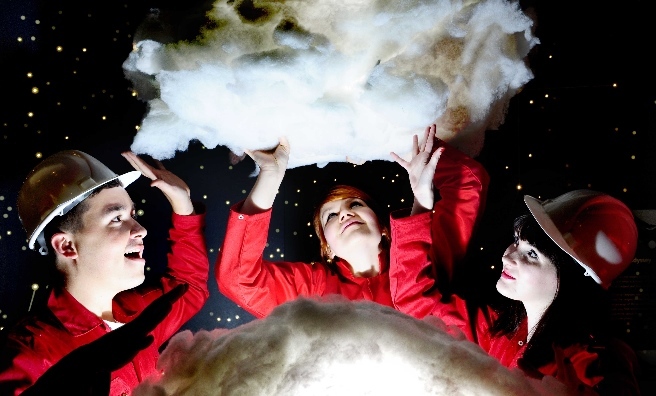 Have fun with science at Edinburgh International Science Festival.
This year, Edinburgh International Science Festival has transformed into The Ideas Factory – a city-wide hub for information, ideas and innovation.
Audiences are invited to get their thinking caps on as big ideas transform the halls, galleries, theatres and gardens of Edinburgh from 4-19 April.
Amanda Tyndall, Deputy Director of Edinburgh International Science Festival, said: "This year's Science Festival celebrates enlightened thinking and doing by drawing together shining lights from the fields of science, technology, engineering, philosophy, the arts and beyond, to mull over some of the big ideas, issues and challenges of our time.
"But it's not all serious stuff – there are plenty of sociable science opportunities, with events on everything from to gaming to gin, and beauty to beer".
Big ideas and great minds
In 2015, the Science Festival focuses on big ideas and great minds – from makers of new inventions and political policy, to world-class scientists and ground-breaking artists.
Leading scientists appearing at the Festival include Edinburgh-based Nobel Prize winner Prof Peter Higgs, physicist Dame Jocelyn Bell Burnell, and Gaia Theorist James Lovelock, alongside broadcasters Jim Al-Khalili (BBC's Light and Dark), Hermione Cockburn (BBC's Coast), Simon Watt (Channel 4's Natures Giants) and Helen Keen (BBC Radio 4).
Scottish superstar trials rider and Red Bull athlete Danny MacAskill talks about what drives him to achieve extraordinary feats (12 April), former hostage Terry Waite joins neuroscientist Sir Colin Blakemore to discuss his experience in captivity (9 April), and best-selling author Matt Haig discusses using mindfulness as a tool for mental well-being (6 April).
Keynote event The Road to Paris features outgoing Chair of the IPCC and Nobel Peace Prize recipient Dr Rajendra Pachauri in discussion with experts and policy makers about global issues surrounding climate change, including Scottish Minister for Environment and Climate Change, Dr Aileen McLeod MSP. Closer to home, two topical debates consider Scotland's energy future – Black Gold, White Lies? The Truth about North Sea Oil (14 April) investigates how much oil is really left in the North Sea, while Engineering Our Energy Future: To Frack Or Not To Frack? (9 April) considers each side of the fracking debate and the Scottish Government's recent moratorium on the matter.
Science, music and art collide
Those looking for an inspiring night out can enjoy the Festival's Lates events – where science, music and art collide. The programme also features the return of hugely popular sci-creative series LateLab taking in subjects as diverse as the Tron movie series in a special Atmosphere screening at the National Museum of Scotland (4 April), to a scientific look at beauty at the National Portrait Gallery of Scotland (17 April).
The Science of Game of Thrones (10 April) asks whether the phenomena present in George R.R. Martin's epic tales could perhaps be plausible, while Electric Tales: The Science Years (14 April) promises a night of comedy storytelling packed with love, competitions and a healthy dose of weird. Late nights include two special new events – The Big Bang Bash (10 April) – an out-of-this-world party celebrating the wonders of space; and Full Spectrum (17 April) – the Science Festival's first ever club night.
The perfect Easter Holiday adventure for families
The Science Festival remains the perfect Easter Holiday adventure for families. The City Art Centre will again be transformed into a scientific playground: kids can enter the Carnival of the Mind to discover the secrets of their brain, enjoy science storytelling with Timmy the Turbine and explore our new Under 5s Science Trail.
Over at Summerhall, families can enjoy an expanded series of interactive science shows and workshops, with more on offer for older children and teenagers. Other family events around the city include hands-on workshops at the National Museum of Scotland, a Columbian jungle-themed expedition at the Royal Botanic Garden Edinburgh, and the University of Edinburgh's packed programme of family events at the National Museum of Scotland.
Full details of the 2015 Edinburgh International Science Festival programme can be found at www.sciencefestival.co.uk, where tickets for all events can be booked online.
---
What's On
• Brainwaves – a series examining the mysteries of Brain, Mind & Consciousness
• Light & Enlightenment – UN International Year of Light 2015 illuminates Scotland's greatest minds
• GastroFest – return of the mini-festival about the science of food and drink
• Energy & Environment – a series debating our global climate future
• Numbers That Matter – probing big data and the stats behind our lives
• The Reading Experiment – a celebration of science writing in all its forms
• How the Light Gets In – an exhibition showcasing artists working with light