PPA Scotland Award Win!
---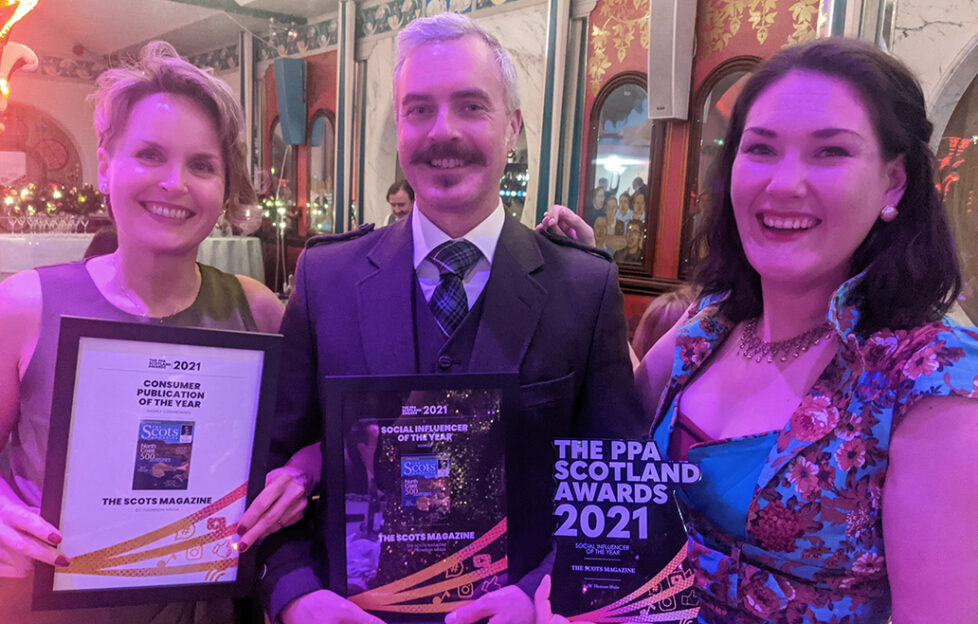 Rachel McConachie, Robert Wight and Katrina Patrick collecting the awards on behalf of the team
It was a good night for The Scots Magazine at the PPA Scotland Awards 2021
At the PPA Scotland Awards in Glasgow last week, The Scots Magazine team were delighted to win one award and one Highly Commended certificate.
They took home the Social Influencer of the Year award, and were also highly commended for Consumer Magazine of the Year.
This is the third time the magazine team has won a PPA Scotland award for their social media presence – an impressive feat for the oldest publication in the world, still in production. This year the team impressed the judges with their response to the pandemic and Scottish lockdown.
"an excellent response to a changing environment"
"There was one outstanding winner in this category whose social media presence showed an excellent response to the changing environment caused by the pandemic," read the judges' comments.
At the awards night in Glasgow, the judges also highly commended The Scots Magazine for Consumer Publication of the Year.
"It's fantastic for our magazine to be recognised at a national level," said Editor, Robert Wight, who attended the event. "One of our main focuses is helping our readers and followers feel more connected and engaged.
"Through our website, social channels and our monthly issues, The Scots Magazine celebrates the best of this country. It's an honour to share this passion with followers across the world – and win an award for it too!"
A big thank you to all our readers and followers for engaging with our content and reading our wee mag. We couldn't have done this without your interest and interaction.
You can see the full list of PPA Scotland Awards winners 2021 here.
Join our community of subscribers here.