Prawn Ramen With Spicy Kimchi Recipe
---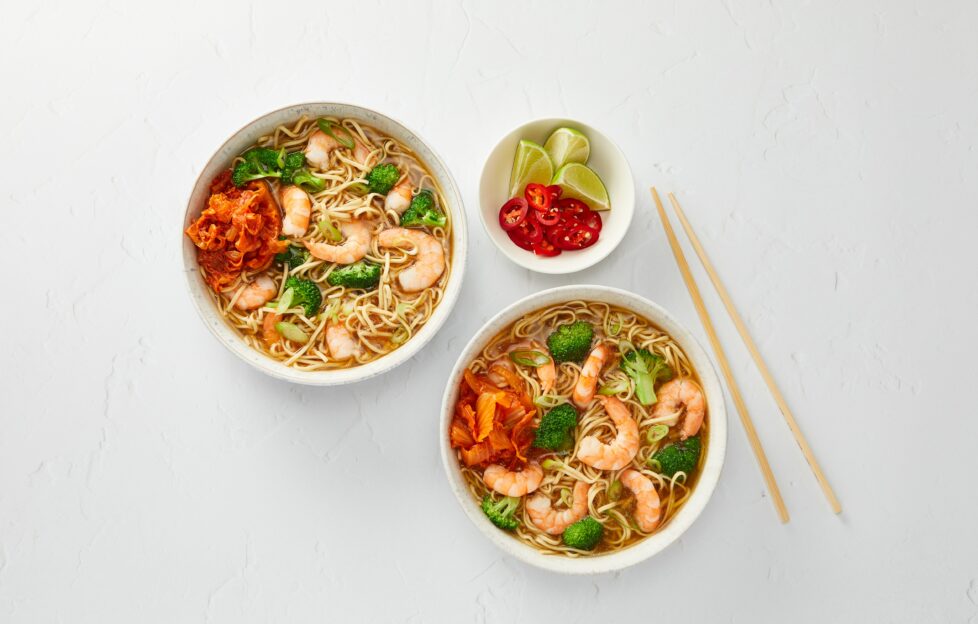 Ingredients
350-400g cooked and peeled prawns
2 reduced-salt vegetable stock cubes
1 tbsp sesame oil
2 garlic cloves, minced
8cm piece of ginger, peeled and finely grated
4 nests medium egg noodles
1 head broccoli, cut into small florets
2 tbsp reduced-salt soy sauce
215g jar Korean kimchi, drained
1 chilli pepper, sliced (optional)
1 lime, quartered
Method
Dissolve the stock cubes in a little boiling water and set aside.
Gently heat the oil in a large pan, then add the garlic and ginger, and cook on a low heat for a few minutes. Add 750ml boiling water, bring up to the boil then add the dissolved stock cubes, noodles and broccoli. Cook for 2- 3 minutes.
Add the prawns and cook until they are piping hot and the noodles and broccoli are cooked through.
Season the broth to taste with a little soy sauce if needed, divide into four bowls and garnish your ramen with a good spoonful of kimchi, fresh chilli (if using) and a squeeze of lime.
Credit: Love Seafood
Raise your ramen game by using prawns instead of chicken in this delicious ramen!
Ramen is a comforting dish, full of flavour and budget-friendly, feeding four for a tenner.
Love Seafood's prawn ramen with spicy kimchi is a delicious dinner ready in 20 minutes.
Add Korean-style kimchi for an authentic flavour that perfectly complements the sweet juicy prawns and broccoli.
Skill Level: Easy
Serves: 4
Cooking time: 12 mins