Preserving History
---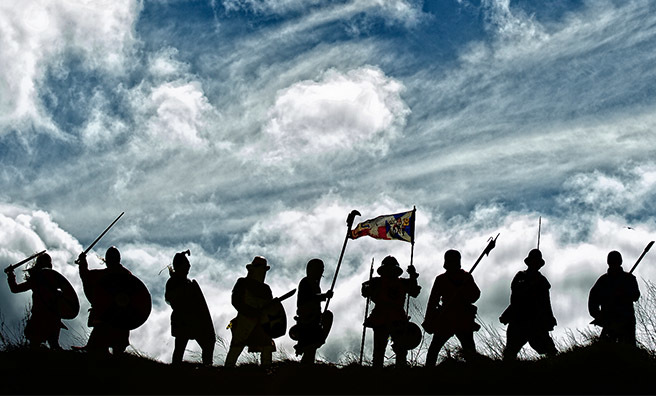 Scottish soldiers from across the centuries celebrate the launch of Scottish Battlefields Trust
Some of Scotland's best living history societies gathered in Prestonpans today, bringing to life a timeline of Scottish soldiers through the ages, from armoured knights to plaid-clad pikemen.
The event was organised to celebrate the launch of the Scottish Battlefields Trust to protect, promote and preserve Scotland's rich battlefield heritage.
Housing development threats to the conservation area around Culloden Battlefield was one of the motivations behind the trust's creation, inspiring the Scottish Battlefields Accord of October last year.
The Accord outlined the aims of the Scottish Battlefields Trust, and stated that all the battlefields of Scotland "… shall forever bear witness to the struggles and sacrifices which have forged the Scottish nation and the character of its people. They shall be protected, preserved and interpreted for the enduring benefit of current and future generations."
New members have been recruited for the new trust, from archaeologists, historians, writers, battlefield representatives and right down to interested individuals with a passion for Scotland's heritage.
"Battlefields are assets, of which our generation are but temporary guardians."
"Everyone's welcome!" said the trust's Acting Director, Arran Johnston. "We are working closely with the UK-wide Battlefields Trust and seeking advice from similar organisations, and are of course building strong relationships with relevant groups and communities within Scotland."
Arran told The Scots Magazine that battlefields "are the places where the story of the nation was forged through sweat and blood, places of terrible suffering but also of noble sacrifice and inspiring achievement. We believe that they should be preserved for future generations, not just because of what happened there hundreds of years ago, but because of what those events can teach us today."
---
The Accord
"Scotland has an indivisible duty of care
for its battlefields, and a responsibility to ensure their protection, interpretation, and conservation."