Queensferry Crossing Facts!
---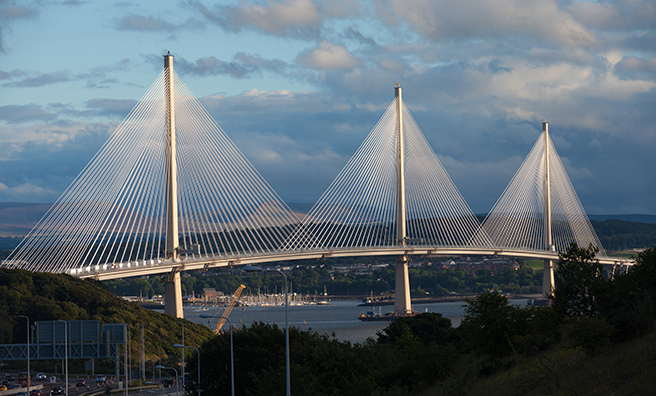 The third Forth bridge has now opened to the public…
Finishing touches were still being added to the Firth of Forth's newest crossing when members of The Scots Magazine were invited for a visit.
We donned steel-cap boots and hardhats – worn with style as you can see in the gallery on the right – and walked onto the newly-laid tarmac.
Members of Transport Scotland and project engineers talked us through some of the bridge's impressive stats as we stood under the colossal South Tower. Among those lending their expertise to this ambitious project was Dr Mike Glover, Technical Director of the Employers Delivery Team.
Glover has worked on infrastructure projects around the world, including the Channel Tunnel, but he said it was an honour to have been part of the Queensferry Crossing's construction.
"What I really want to underscore is that big infrastructure really does change communities – for the better," Mike told us. "I've always felt that as a civil engineer that was my biggest gift that I could actually give to a community. Infrastructure does change people's lives – I can say that from physical experience – and that's really what this bridge represents. It's not just a crossing of the Forth; it represents opportunity."
Three bridges representing the best
technology across three centuries
"For example the railway bridge, quite apart from its iconic nature, was the first bridge to use steel anywhere. So you've got a steel riveted bridge over there, using the best technology of its time.
"The Forth Road Bridge, using adopted technology and the way to build suspension bridges at that time, and then you come to this bridge – again a different technology, and one that's right at the leading edge of the hot bed of technology at this time."
The bridge opened on Wednesday, August 30, and shut temporarily on Saturday, September 2 & 3, to allow 50,000 lucky ballot winners to walk across its length before HRH The Queen opened the Queensferry Crossing officially on Monday, September 4.
Discover more in our September issue!