Paws At The Palace!
---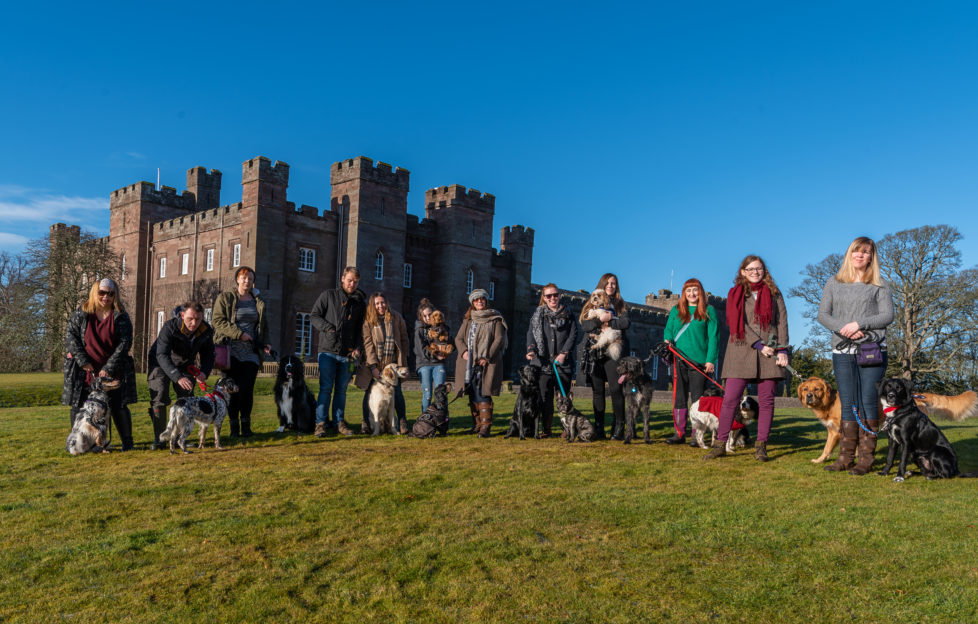 Linda Allan with Pippa, Chris Allan with Cookie, Christine Faulds Quinn with Tally, James Howie & Lauren Wimble with Oban, Micha and Audrey Maestri Stevenson with Daisy & Oscar, Tia Gower with Monty & Odin, Katie McCandless-Thomas with Baxter, Alanna Jackson with Badger, Bang & Trinny, Yvonne Henderson with Angus, Elaine Macfarlane with Oran
Scone Palace going to the dogs for a day as it launches exclusive four-legged event
The award-winning Scone Palace invites dogs and their owners to an exclusive event where four-legged friends get the royal treatment. Paws at the Palace, organised in partnership with Dog Friendly Perthshire, takes place on Sunday 30th June.
The all-day event will feature doggy fun and games, breed parades, agility classes and some paw-some demonstrations.  Scone Palace will also host humans and dog food stalls, rest areas, and a host of canine gifts and gear.
Pet-friendly palace
Paws at the Palace celebrates Scone Palace's status as one of the most pet-friendly places to visit in the world. The Palace's Old Kitchen is open to dogs during the winter and the grounds are perfect for a dog walk.
Last summer Scone Palace was named in the top seven of the U.K.'s most pet-friendly places. It outranked several other famous Scottish locations, making it the animal lovers' favourite in Scotland.
TrustedHousesitters, the world's largest house and pet sitting company, asked its users to vote for the best places in the world to take pets. Scone Palace won the accolade for its spectacular location and dog-friendly attitude.
Four-legged visitors
The organisers are expecting hundreds of attendees at Paws at the Palace. Heather McArthur, Events Manager at Scone Palace, said:
"It's clear from the amount of four-legged visitors we get to Scone Palace, and from the success of Dog Friendly Perthshire, that we're in a region that loves its dogs. That's why we wanted to dedicate a whole day to dogs and their owners. It's a chance for pets and their owners to mingle and take part in some fun activities in our beautiful grounds, but also and learn a thing or two as well."
Katie McCandless Thomas, who launched Dog Friendly Perthshire last year, will be attending along with her Lhasa Apso, Baxter, who fronts her campaign. She said:
"I launched Dog Friendly Perthshire due to popular demand and it now has more than 7000 followers on social media. I'm confident that Perthshire will become the dog-friendly capital of Scotland, and Paws at the Palace is another step towards that happening. We've already had interest from tons of dog owners. It's safe to say that Paws at the Palace will be an unmissable event."
Anyone interested in having a stall at Paws at the Palace or sponsoring one of its events should email Heather McArthur on heather@scone-palace.co.uk
Visitors to the event will be charged admission to the Palace grounds. Tickets are available 

here. 

More information on Scone Palace is at www.scone-palace.co.uk