Scotland In Six
---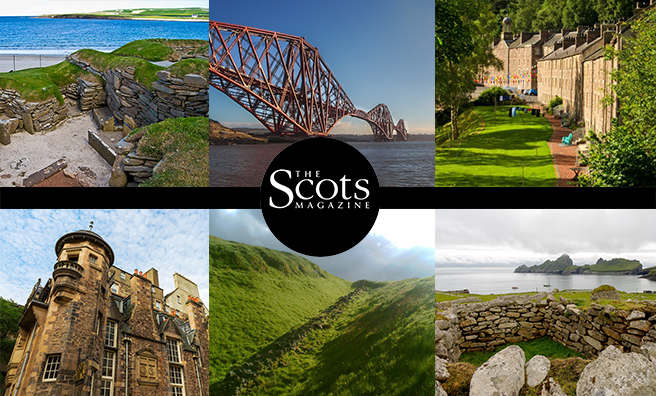 Celebrate Scotland's UNESCO Sites On World Heritage Day
April 18 is #WorldHeritageDay and across the globe heritage sites and promoting awareness of the vast diversity of humanity's cultural heritage.
In Scotland we're lucky enough to have no less than six UNESCO World Heritage Sites – find out more about them below, and vote for your favourite!
St Kilda
The remote Hebridean island archipelago is one of only two-dozen global locations with World Heritage Status for both natural and cultural significance.
St Kilda shares this honour with natural and cultural wonders such as the Historic Sanctuary of Machu Picchu in Peru and Mount Athos in Greece.
Edinburgh Old and New Towns
The capital is a city of many eras, and its World Heritage Site comprises both the old and new towns.
The Auld Toon has preserved much of its medieval street plan and Reformation-era buildings along the wynds of the Royal Mile, and the (relatively) New town contrasts this perfectly with neoclassical and Georgian architecture in regimented order.
Antonine Wall
Constructed around 142 AD by the Romans, the Antonine Wall marked the north-west frontier of their empire. S
tretching from the Firth of Forth and the Firth of Clyde, the Antonine Wall seperated the civilised Romans from the wild Caledonians – possibly where George R R Martin got his Wall from?
The Heart of Neolithic Orkney
The Orkney mainland is synonymous with archaeology – from the mysterious standing stones at the Ring of Brodgar and megaliths at Standing Stones of Stenness, to the 5,000-year-old settlement of Skara Brae and chambered cairn and passage grave of Maeshowe.
Together these four sites form the heart of Neolithic Orkney, which was given World Heritage status in 1999.
The Forth Bridge
One of our most iconic and beloved bridges, the Forth Bridge was named a World Heritage Site in 2015 just after its 125th anniversary.
The bridge was one of the most ambitious projects of its kind ever attempted at the time, and when it opened it had the longest single cantilever bridge span in the world.
New Lanark
The last mill closed in the 1960s but a restoration programme saved the 18th-century village from falling into dilapidation.
It is an early example of utopian socialism in Scotland as well as a planned settlement – making New Lanark an important milestone in the historical development of urban planning