Travelling Top To Tail
---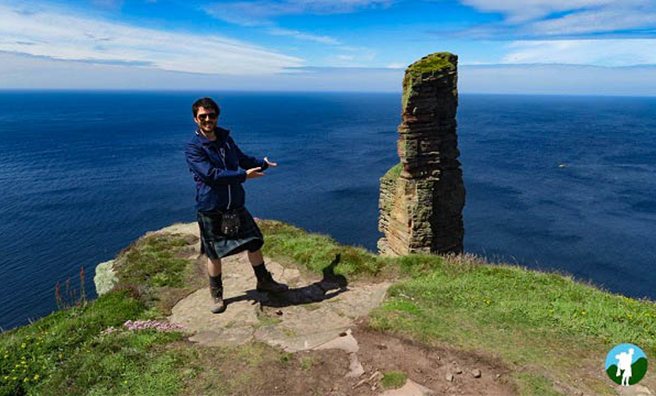 See the diverse best of Scotland from end to end with Neil's travel guide for a week of sight-seeing
As an almost constant itinerant, I don't always get as much time as I'd like to really experience places.
Blink-and-you'll-miss-it tends to sum up a lot of my work-related travel and I am in great envy of more relaxed travellers.
The flip side is I get to see lots of wonderful places and, in the case of Scotland, there's never an end in sight on the to-visit list.
This summer, one week came along that broke all records for car mileage and saw me tearing around the length and breadth of the place.
From Orkney to the Mull of Galloway in the space of just a few days, I had the chance to see the very best of Scotland and reflect in wonder on how such a wee land can reward so generously.
I give you… Scotland in a week!
Orkney
It doesn't get better than Orkney for history lovers.
Everywhere you look on the islands you feel centuries' worth of stories all around you.
Fragile remains of ancient civilisations meet those epic and immortal standing stones – of which so little is known but so much is speculated.
Boasting the likes of Skara Brae, Maes Howe and the Ring of Brodgar, it is little wonder that Orkney has drawn comparisons with more decorated ancient civilisations, including the Egyptians.
A hop over to see the Old Man of Hoy presents another ancient wonder.
A stunning walk alongside the radiating beaches at Rackwick (we're very good at beaches too) begins the route to the magnificent and iconic rock structure.
Shooting out of the water it points menacingly at the sky and leaves visiting hikers and photographers in awe.
It is possibly the first and last sight of Orkney for ferry visitors on the crossing and it's also a taster for more of the same back on the mainland.
Caithness
My passing through Caithness was unfortunately a fleeting visit but still one of my most memorable of the summer as it included the endlessly dramatic Duncansby Stacks.
After an exposed-to-the-elements walk from John o'Groats, visitors reach the far north east coast and these natural wonders, you can see on the right.
Words hardly seem necessary to describe their impact.
Inverness
A city that continues to expand between visits, the Highland Capital is at its bustling best in the summer months when international visitors flock to Loch Ness and Culloden in particular.
I've yet to find anywhere in the world to match the latter as a place for grim reflection. The culmination of a pivotal chapter in Scotland's history, the battlefield and impressive visitor centre are a powerful journey through the 18th-century Jacobite wars.
Conflict has been omnipresent in our past and, despite its melancholy impact, Culloden will forever be a must-visit for this history addict.
Speyside
I hadn't intended on stopping in Speyside on my way back south from Inverness but I saw the brown road signs and, well, I'm only human.
Our national drink is a hobby and a passion in itself and, along with our history and our landscapes, nothing feels more Scottish to me.
For concentration of distilleries, Speyside is in it's own league and dozens of tours await if you so choose.
Immaculate buildings set in pristine, gentle terrains add to the tasting experience. From Speyside malts expect sweet, slightly spiced, slightly citrus and shamefully easy to drink drams.
The Kelpies
I left Speyside behind with a boot full of the good stuff and head back to the central belt with a stop at the country's most distinctive piece of modern art. Although the Kelpies have only been with us for a couple of years, the 30 ft structures have won over many hearts.
A wonderful tribute to the importance of horses to local heritage and the functioning of the neighbouring canals, they are fast becoming one of our most recognisable national images.
Dumfries and Galloway
Veering dramatically south-west, here lies a head-scratchingly under-discovered little segment of Scotland.
From the vast serenity of Galloway Forest Park to the crumbling yet atmospheric ruins dotted all around these parts, Dumfries and Galloway has an entirely different feel to the rest of the country.
Southern Scotland felt the full force of the historical conflicts with England, and the likes of Caerlaverock and Threave Castles have endured more than their fair share of brutal sieges. This means that now, though, they make the most beautiful ruins you'll ever see.
Despite all the talk of wars and battles, I'm not ending on a heavy note. Cream o' Galloway ice cream is amongst the best in existence and fixes most of the world's problems.
To have covered all of the above in a little over a week was a spectacularly intensive look at Scotland's massive range of assets – and I didn't even mention our culture-hub cities.
When I first realised my itinerary, I was appalled, I must admit. But the intensity was a fantastic reminder of why I love this part of the world as much as I do. Having it all smushed into such a tight time frame helped pick out how complimentary its key strengths truly are.
Aren't we lucky?
---
More From Neil…

Neil Robertson is the Scotland travel blogger and writer behind Travels with a Kilt.
He appears here as one of the Scotlanders travel bloggers, collaborating to showcase the best of the country.
His adventures usually involve the outdoors, a kilt (obviously!) and some immersion in Scotland's great history.
Follow him on Twitter here!