Scotlanders | A Fond Farewell
---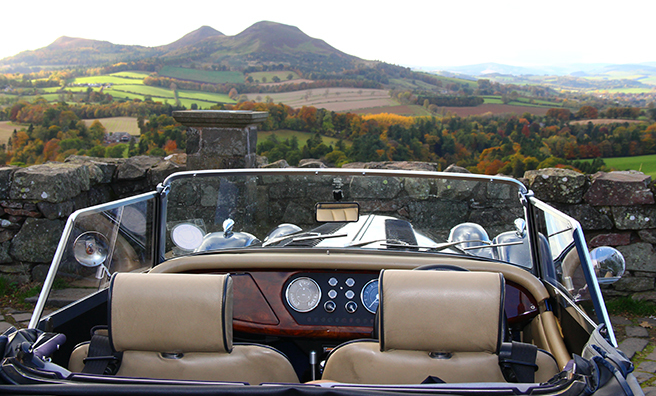 It's the time of year when we tend to slow down and look back at what the year has brought us – and for no one more so than Kim from the Scotlanders, who is stepping down from his role of Scottish tourism blogger
I have taken the difficult decision to step down as a Scotlander due to personal circumstances and changes in my personal life. I am therefore also taking some time off social media, but it has been an absolute pleasure telling you all about my journey around Scotland and beyond – thank you for following me on this journey!
It has been an amazing year – not only exploring the country we love, but also spending time with the rest of the Scotlanders and getting to know a lot of new sights around Scotland. I don't think I have ever experienced as much or met as many amazing people in one year and the welcome we have received as the Scotlanders has been heartfelt and genuine at events and also throughout the country during our travels.
I have loved seeing the sheer passion for Scotland, not only from the other Scotlanders, but also from so many individuals from around Scotland, and from those who have visited over the years or even just that once and fell in love, like I did many years ago!
Before I finish up I wanted to tell you a little about what we have been up to recently, as you know by now we can never have a quiet day in the house, the best ones are when we're out and about in Scotland!
Walking from Bridge of Allan to Dunblane
I am part of a local walking group in Edinburgh and this years annual Christmas walk the other week was meant to take place from Dunblane to Bridge of Allan and back. Due to Storm Desmond, this was slightly amended and meant a shorter walk!
Along with a few friends we braved Storm Desmond and headed on the train from Edinburgh to Bridge of Allan. When we arrived there, it was apparent why we could not completely carry out the route initially planned, the paths were submerged by the overflowing river. After a quick stop at a local cafe, we started the walk and this turned out to be a rather pleasant, but very wet experience. We did manage to complete a part of the route and our day was finished off with a lovely late lunch in Dunblane, to celebrate another year of walking and hiking our great country.
A Road trip and some falconry
Susanne was recently out and about on the Isle of Mull on a campervan trip with Rockin Vans exploring this beautiful Scottish isle. This she did in a fantastic camper van and what a way to travel the isle or even any part of Scotland. To see how she got on, make sure you visit @ScotAdventures and keep an eye on her blog here.
Looking at this I am now feeling a little jealous and would love to try this out myself – maybe 2016 will be the year where I do!
Nicola had the pleasure of spending the day at Elite Falconry in Fife and got to see the beautiful owls, hawks and falcons fly and catch their pray. To see how Nicola got on, make sure to check out @FunkyEllas.
My visit to Falkirk
A few weeks back, along with the rest of the Scotlanders, I spent a weekend in Falkirk and the surrounding region. This was my first time exploring this area of Scotland properly.
My visit to the region included a morning at Cloybank activity centre, where I learnt (or certainly tried) to shoot with an air rifle. Who knew that it would be so relaxing! I visited the grand Callendar House for lunch with Dougie (who covers this in more detail on his latest blog) and what a spectacular building and fantastic grounds. The autumn colours were still hanging in there and making and creating beautiful colours around the garden and woodlands.
I also did a spot of snowboarding in Polmont, kart racing at Xtreme Karting and we watched Macbeth in the Hippodrome cinema in Bo'ness, what a spectacular refurbishment they have done to restore the cinema.
To read more about my visit to Falkirk, please visit my blog Visiting Falkirk, an adventures weekend, and if you're planning a visit to Falkirk, make sure to check out Falkirk Community Trust http://www.falkirkcommunitytrust.org/
Scottish Borders
I was invited by Visit Scotland to spend a day in the Scottish Borders with some of Scotland's top Instagram bloggers. This was the first time I had the pleasure of travelling all the way from Edinburgh to Tweedbank on the new Borders Railway. Despite us visiting the Scottish Borders this summer, the railway was not yet up and running and I had not been able to be there for the opening weekend unfortunately.
I have included a snapshot of what a day in the Scottish Borders could be like and hopefully you will have an opportunity to visit too! Make sure you also check out my blog My Scottish Borders Visit
Street of Light and Edinburgh's Christmas Markets
Living in our country's capital, it's always busy with so many events and activities taking place. This year is by no means an exception. I was lucky enough to attend the opening of the magnificent Street of Light, which was shown on the High Street, Royal Mile of Edinburgh. The performances took place between 30th November and 24th December with two showings each evening.
This spectacular light show was situated in the High Street to try and show off another part of the city, rather than much of it being concentrated to the Christmas Markets on Princes Street and around New Town. This certainly had the effect of attracting crowds as thousands of spectators gathered for each performance. There were four different local choirs singing during each show and the lights were dancing in time to the music.
Scotlanders abroad:-
Since you last heard from me I also had a couple of trips slightly further afield, one was a trip to the second biggest town of Lithuania and the other was a weekend in Liverpool, both were my first visit to these cities. Just as we do in Scotland, I was looking for less explored villages and towns – something just that little bit different.
By the time you read this, however, I will be back with my family in Denmark to celebrate Christmas. It has been a number of years since we celebrated Christmas there, so have really been looking forward to some quality time with family and friends.
Thank you for reading and to those of you who have also been following me on my travels and seen what I get up to on my blog, Twitter and Instagram.
As mentioned at the beginning I am taking some time off social media, so you will not hear from me for a while. Make sure you check out www.thescotlanders.com and if your local community and region is looking for support and assistance in promoting your local activities, events and visitor attractions, make sure you get in touch with them on info@thescotlanders.com.
I hope you had a very Merry Christmas and you will have a prosperous new year. Have a fantastic Hogmanay and enjoy – responsibly! Slàinte!