Scotlanders | Chasing Autumn
---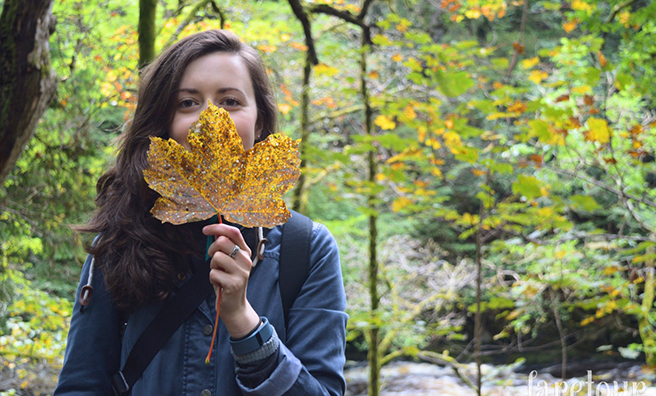 Laura from the Scotlanders asks what it is about autumn that has us spellbound every year?
No matter how many conkers we collect, leaves we watch fall or berries that bloom, the arrival of this colourful season still makes us stop with wonder.
Emily Bronte once said, 'Every leaf speaks bliss to me,' and I utterly echo her words when I say that autumn — especially in Scotland — is nothing but paradise.
When you live in a city, it's sometimes difficult to throw back the duvet, turn a blind eye to the urban buzz and head to the countryside after a long working week.
So here, I've chosen three day trips for this vibrant season, all within an hour of different Scottish cities.
---

Loch Ard, Trossachs
1 hour north from Glasgow on the A81
Nearest public transport C11 to Aberfoyle
With its overflowing greenery, myriad of lochs and damply atmospheric weather, the forest-fuelled Trossachs is an ideal place to take in all autumn offers.
Every October, I return to the scribble of routes around Loch Ard, west of Aberfoyle.
Park at either end of the water and you can follow the grit roads up into the metamorphosing trees and around the fertile shores of the loch itself, where you'll enjoy views to Ben Venue and Beinn Dubh.
Another bonus of this route is its closeness to the Wee Blether, a Kinlochard tearoom with character and colossal cakes.
---

Melrose, Scottish Borders
1 hour south east of Edinburgh
Just over an hour by train from Edinburgh Waverley
Although the Borders may not boast such glacier-honed mountains as the Highlands, it more than makes up for that with sheer charm and culture.
Along with wandering the Melrose lanes, you can also bag two distinct but delightful historic properties within a five-minute drive of each other.
Start at Abbotsford House, where the plethora of plants in and outside the walled garden are slowly turning colours of gold, terracotta and burgundy. You can take a tour inside Sir Walter Scott's opulent home or you can explore the grounds with the River Tweed as your soundtrack.
Next stop is Melrose Abbey, where orange leaves add sparks of colour around the graveyard. First founded in 1136 as Scotland's earliest Cisterian abbey, this fourteenth century church — also home to Robert the Bruce's heart — is an ideal place to take in both culture and colour this autumn.
Finish up with a drive to Scott's View if your SD card isn't already overloaded!
---

The Hermitage, Dunkeld
30 mins north of Perth by car
Up to 1 hour by bus from Perth Bus Station
Jump on the A9 for a generous dose of Highland air at the Hermitage, a National Trust for Scotland site near Dunkeld.
Soaring Douglas Firs, wild waterfalls and the ornamental Ossian's Hall are just a few of the magical features you'll discover in this network of woodland trails.
I visited in mid-September and the early signs of autumn were starting to show: large sycamore leaves burnt orange, the pure smell of damp earth and a proliferation of fungi in the shadows of tall trees.
Once you've wandered, head to Dunkeld for some warm doughnuts in Howie's Bistro and a quiet moment at the cathedral.
---
Follow @laretour and @scotlanders on Twitter for more travel updates and ideas.
Join the chat on Twitter, too, with #AutumnScotland to let us know your favourite Autumn spots.