Scotlanders | A Day In Glen Coe
---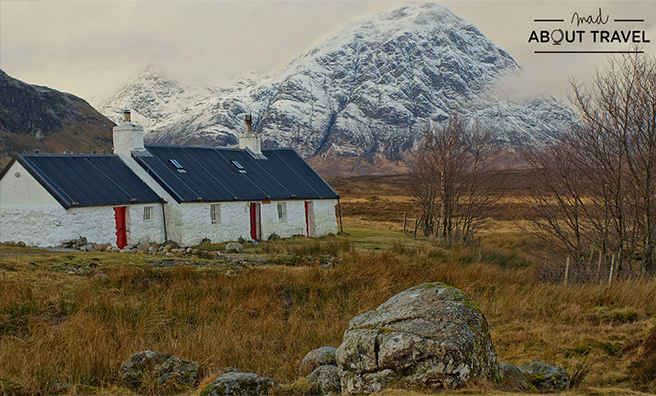 One of my first adventures of this year took me back to Glen Coe, a place I know well and yet one which always manages to surprise me
Although it is a favourite of mine at any time of the year, Glen Coe looks particularly stunning when the imposing mountains are snow-capped and everything has a certain wintery feel.
Believe me, the long drive from Edinburgh is worth is for lots of reasons – even if you're not a huge fan of the outdoors. But, honestly, why would you not love the outdoors of Scotland?
Wake up early; get in the car and drive. Drive until you get to that stunning, magical and mystical place called Glen Coe, shrouded in the mists of time and history. I don't think you'd find a more scenic road in the whole country. It is so easy to feel tiny among titans like Buachaille Etive Mor or the Three Sisters of Glencoe!
A Day's Itinerary
First stop should always be the Ski Resort, if only to check out its cute "hobbit cabins" – and then to have a go at skiing if you are less clumsy than I am. Take some snaps of the quaint Black Rock Cottage and chat to fellow photographers – there are always a few out looking for the perfect picture.
Head over to the Kings House Hotel for lunch, and to get close to the friendly deer that love hanging out there.
Look for a wee spot by the river where the Buachaille Etive Mor casts a dramatic reflection on icy waters – this was a tip from one of the local photographers, who kindly pointed it out to me. I could not stop staring in awe at that liquid mirror.
Once done admiring the landscape, it's time for a small incursion in Glen Etive, in search for snow and more cheeky deer.
There wasn't much snow on my visit – except for the high mountain summits, but it was no less dramatic. Once your wanderlust has been satisfied, retrace your steps and venture back into the most beautiful glen in Scotland. Cross it and stop anytime you feel like doing so for a picture, a wee wander or just to admire the surroundings.
The Weight of History
Every time I find myself nearby I stop to say hi to the Three Sisters of Glencoe, who never disappoint.
It is difficult, too, not to feel the weight of the tragic history of the famous Glencoe Massacre while walking some of its trails. This added drama makes the experience and atmosphere even more interesting.
Another picturesque spot is Loch Achtriochtan, with the quaint Achnambeithach Cottage in the distance and the mountains creating an almost perfect V-shape in the calm waters of this quiet spot of the River Coe.
A little bit further down the road that leads to the Clachaig Inn there is a lovely place where crystal clear waters form some pools and small waterfalls. It is a photography-aficionado's dream. I set up my camera to very low shutter speed and managed to capture the flow of the River Coe as if it was a silken pool.
And how should you end a gorgeous sunny day in Glen Coe? By stopping at the Clachaig Inn for some warm food and drinks – not without promising to go back for more.
You'll never stop at just one visit.
---
More from Patricia
Visit Patricia's Blog
Or follow her adventures through social media