Scotlanders, History Hunters!
---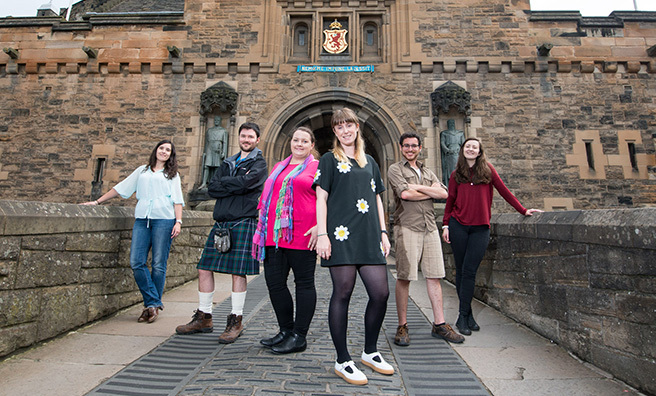 75 castles, abbeys, kirks and brochs in one weekend…
As we stood in the Grassmarket with Edinburgh Castle behind us, high on the hill and golden in the sunset, the tourist taking our photo had a puzzled look on her face as we explained that we would have our eyes shut – we were only pretending to be asleep, but it was nearly for real!
I was exhausted, but satisfied and elated because finally, after 460 miles, we had completed our mission: our latest Scotlanders campaign, partnering Historic Scotland for a weekend of castle hunting.
We're finiiiiiiiished! ? 29. EDINBURGH CASTLE ? Well done to all the #historyhunters ? @welovehistory ? pic.twitter.com/W99BJVNbQO

— Kay ? (@TheChaoticScot) July 24, 2016
In pairs we raced around the country "bagging" as many castles as we could as we became history hunters.
Points would be awarded for each castle and extra would be given for "creativity", so, armed with a royal rubber duck each, a play sword and a crown or two, myself and Kay headed south to cover Dumfries and Galloway, the Scottish Borders and the Lothians.
Our two newest members Laura and Patricia became Team North, covering Aberdeenshire and Inverness, while Neil and our honorary Scotlander for the weekend David (@thecastlehunter) were Team Central, exploring the Central Belt.
The Castles of the South
We began early on Saturday morning with a long drive to our first castle of the day, Threave Castle, near Castle Douglas, Dumfries.
Although it was closed we could still take photos from the outside. When it is open, visiting involves a boat ride to cross the River Dee to the island.
Castle Threave was built around 1370 by Archibald "The Grim" Douglas and was improved upon by several members of the family until it was handed over to the crown around 1455.
It was not used as a home again but has since been taken by the English, retrieved again, attacked by covenanters and used to house French prisoners of war!
Next up was Carsluith Castle and the Cairn Holy chambered Cairns nearby before we hit the gorgeous little village of Kirkcudbright bound for MacLellans Castle.
We also managed to squeeze in Dundrennan Abbey – where Mary, Queen of Scots, spent her last hours on Scottish soil – before we headed to New Abbey to explore the New Abbey Corn Mill and the stunning Sweetheart Abbey.
Our last stop of the day was to the fantastic Caerlaverock Castle where we were treated to a re-enactment of the 1640 siege by a Covenanters army. This gave us a perfect opportunity for a photo collage of us taking the castle – bonus points!
After a much-needed and relaxing sleep at Queensberry House in Moffat, Sunday saw us change regions to the Scottish Borders with its four breath-taking abbeys.
Remarkable Ruins
Founded in the 12th century by David I they now lie in ruins after centuries of attacks due to their proximity to the English border.
That doesn't mean they aren't remarkable though. If we weren't in a race I could have spent hours looking around these beautiful abbeys. This time though there were other places to be and it was time to head back up towards Edinburgh.
By this time the rain had started which meant our walk up Doon Hill to the Dark Age settlement was a bit messy to say the least!
Anglo-Saxon Northumbrians settled here in the 500s and 600s and evidence of this was found during excavations in 1964. What looks like just another field is actually of huge archeological importance; concrete lines mark out different elements of the settlement and the views from the hill are fantastic, over the Lothians and out to the wild North Sea.
After a quick tea break we were into the final stretch with a visit to Hailes Castle, St Martin's Kirk and Craigmillar Castle before a trio of Historic Scotland properties at Holyrood.
An exhausted drive to the Grassmarket finished our #historyhunters campaign with a total of 29!
So how did the others get on?
Patricia and Laura loved getting lost without Wi-Fi in the Cairngorms for four hours! It meant they got to explore some really off the beaten track locations like Kildrummy and Glenbuchat, ending up at Corgarff Castle while it rained cats and dogs outside.
They met a lovely little American kid at Clava Cairns who insisted the campaign should have been called #duckquest rather than #historyhunters and made them take the photo you can see in the gallery on the right with the ducks on their heads.
Neil and David had a ball exploring the central belt; we were even treated to some carpool karaoke which you can see here. They posed on thrones in Stirling Castle, trekked up into the Ochil Hills, popped into Fife and visited several of their favourites such as Bothwell Castle, St Bridget's Kirk and Stirling Castle.
In total we visited 75 castles, abbeys, kirks and brochs over the weekend, and got #historyhunters trending in the UK more than once!
And here are our crowned winners of the #historyhunters challenge: ?@FunkyEllas and ?@TheChaoticScot! Well done!!! pic.twitter.com/eTPEC1XDnj

— Historic Scotland (@welovehistory) July 25, 2016
---
More history hunting!
To see more of where we visited you can check out the #historyhunters hashtag on twitter and instagram.
Subscribe to my blog to follow my journey around more of Scotland's trials. Complete the wee form in the right hand column at
www.funkyellastravel.com to subscribe – and be in with a chance of winning a stunning Fraser tartan tote bag from Dunmore Scotland!
You can also follow me for up-to-date adventures, on Twitter, Facebook and Instagram.